A Denver private equity firm has purchased a 0.65-acre site in Arapahoe Square with two buildings on it.
Although the site was marketed as a redevelopment opportunity, the firm's CEO said it doesn't have immediate plans to do so.
Thermo Cos., acting as Venture Development LLC, purchased 2131, 2139 and 2165 Curtis St. in Denver last week for $6.995 million, according to county records.
The 2165 Curtis corner parcel is home to a large one-story warehouse with a mezzanine level. The building, constructed in 1947, bears fading signs for auto shop Soneff's Master Garage, which operated there for years before moving to nearby 2140 Arapahoe St.
The 2139 Curtis parcel is home to a small two-story office building, which dates to 1904, while the third parcel included in the deal is a parking lot.
The properties were sold by DC Retreat LLC, an entity affiliated with Denver's Hexagon Investments, led by Scott Reiman. The LLC purchased the parcels from the Soneff family between November 2008 and December 2012 for a total of $3.37 million, according to records.
Alex Ringsby and Scott Patterson with Ringsby Realty represented the seller. Ringsby said the corner warehouse is used by limo company Preferred Transportation, while the office building is vacant.
A listing brochure advertised the assemblage as a redevelopment opportunity. The parcels have zoning allowing up to eight or 12 stories, but are also within an overlay district that allows up to 30 stories if certain conditions are met, Ringsby said.
Thermo Cos. CEO Jay Monroe, however, said the firm purchased the property as an investment, and doesn't currently have a plan to significantly alter the site.
"We'll figure out what to do with it, but it's not urgent for us," Monroe told BusinessDen.
Thermo Cos. was founded in 1984 to develop power plants and natural gas assets in Colorado. But the firm now is more active in the telecommunications and financial services sectors, as well as real estate, according to its website. Thermo's holdings include Globalstar, a Louisiana-based satellite communications company.
In Denver, Monroe said Thermo owns Denver ChopHouse & Brewery at 1735 19th St., and part of IceHouse Tavern at 1801 Wynkoop St.
Elsewhere in Arapahoe Square, Chicago-based Akara Partners paid $5.5 million in January for the site of its planned 22-story Kenect Denver project in the 2100 block of Lawrence Street. And New York-based Property Markets Group also is eyeing a 22-story project.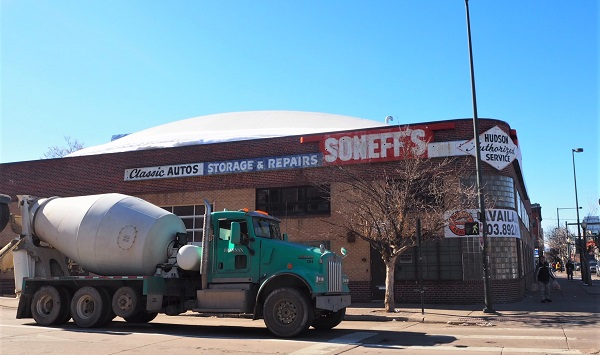 32875