A massive mixed-use project planned for a stretch of Brighton Boulevard now has a name.
Santa Monica, California-based Mass Equities and AECOM Capital said Tuesday that their project in the 2900 and 3000 block of Brighton Boulevard — a mix of renovation and new construction — will be called "Vario." The companies also released a new rendering.
"Vario evokes the eclectic cool spirit of the development's distinct personality and conveys its attitude, while embracing the diversity of the neighborhood and standing out from the familiar pattern of typical mixed-use projects," Brian Bair, Mass Equities principal and senior vice president of Colorado acquisitions and development, said in a statement.
"The sheer size of the project (2 city blocks) and the fact we are adding a new street (30th Street Woonerf) are big advantages and will add to making this different," he said.
Woonerf is a Dutch term for a street that is largely designed with the needs of pedestrians and bicyclists in mind, although it remains accessible to motor vehicles.
Mass Equities purchased 7.8 acres at 2900 and 3060 Brighton Blvd. — across the street from Industry coworking — for $38 million in September 2017.
The company first discussed its plans for the site in November 2017, then announced the partnership with AECOM Capital early last year.
The companies plan to renovate the existing 62,000-square-foot building at 3060 Brighton Blvd. into "a state-of-the-art creative office building, taking advantage of the soaring and dramatic ceiling heights." That work is set to begin next week; Trent Rice with NAI Shames Makovsky is handling the leasing.
The remaining structures at the site are slated to be demolished to make way for approximately 459 apartments, an additional 92,000 square feet of office space and 30,000 square feet of retail space, in addition to parking, the companies said this week.
Previously, in November 2017, Mass Equities said it was planning 480 apartments and 85,000 square feet of retail space.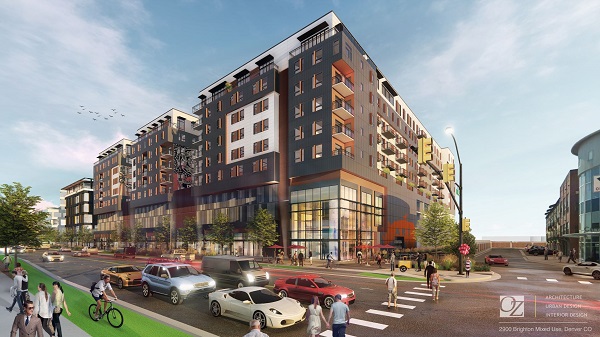 31446