Three years ago, Eric Hill made the jump from law enforcement to opening an escape room downtown.
For his next act, he'd like to put you and your friends in a burly ride.
The former Denver police officer and owner of EscapeWorks last month launched Rugged Van Rentals, a rental van company targeting those headed to serious outdoor adventures.
"I just noticed a big hole in the market when it came to adventure transportation when people have larger groups," Hill said.
Hill, 38, came up with the idea for Rugged Van Rentals last year, and bought three 15-passenger Chevrolet Express vans. He said he spent $60,000 to buy and upgrade each van, which included outfitting them with off-road tires, brush guards and 3-inch lifts, and converting the vehicles to four-wheel drive.
Rugged Van Rentals start at $200 per day, plus insurance. Customers can customize their van rentals to include racks for bikes, kayaks or skis. A group of mountain bikers, for example, were able to add roof racks large enough for 10 of their bikes, Hill said.
"Where I think I differentiate myself is having these four-wheel drive conversions," Hill said. "It really gives people the option to get safely to where they want to go … they're actually equipped for what Colorado weather can throw at you."
While Denver is home to several van rental companies, including Native Campervans and Timbr Basecamps, Hill doesn't consider them competition — largely because Rugged's vans aren't meant for sleep.
"Having the ability to tackle the terrain really sets me apart," Hill said. "The whole van life thing is just so huge right now. Everyone is doing campervans but no one is doing transportation."
Hill said he rented out his first van on Dec. 23, and has already hit $10,000 in revenue. By this spring, he plans to have six vans available for rental. Customers can book a van online, and Hill will drop it off at their location of choice, including Denver International Airport.
Hill, originally from Ohio, worked as a Denver police officer before leaving in 2012 to open EscapeWorks, a downtown escape room, in 2016. Hill said it was one of six escape rooms in the area at the time; now, he counts 76 locally.
"It did incredible and gave me the bug for starting businesses," he said. "EscapeWorks got to the point where it was running itself."
Hill used extra capital from EscapeWorks to fund his van rental business, in addition to securing a loan from Colorado Enterprise Fund.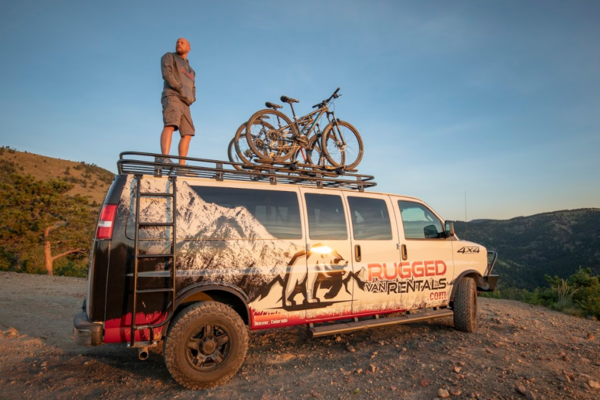 30940