A 10-story building near Union Station has sold for $222 million, setting a record for the sale of Denver office space on a square-footage basis.
PPF OFF 1601 Wewatta Street LLC purchased 1601 Wewatta St. last week for $222 million, according to county records.
The purchasing entity lists a Los Angeles address that is c/o Prime Property Fund LLC. The address matches an office of Morgan Stanley Private Wealth Management.
The building was developed and sold by Houston-based Hines and Denver-based Jordon Perlmutter & Co., with JP Morgan Chase as an equity partner. They purchased the 1.16-acre parcel in August 2013 for $16.25 million, according to records.
The building's website said the structure was completed in 2015 and has 299,127 rentable square feet, including 17,400 square feet of ground-floor retail.
That makes the deal worth $742 per square foot. That tops the record of $684 per square foot set in October by the sale of the office portion of nearby Union Tower West.
(The December 2017 sale of the 22-story office building at 1401 Lawrence St. is believed to have sold for more than Union Tower West, but the deal was structured in such a way that the sale price never appeared in public records.)
CBRE brokers Mike Winn, Tim Richey, Chad Flynn, Jenny Knowlton and Charley Will marketed 1601 Wewatta, which also has four level of below-grade parking.
It's the third-largest sale in Denver in 2018. In March, a union pension fund affiliate paid $285.6 million for a 51 percent stake in 1801 California, the city's second-tallest building. In August, the 36-story 1670 Broadway sold for $238 million.
Tenants at 1601 Wewatta include accounting firm Deloitte, law firm Hogan Lovells, Colorado Athletic Club, disaster recovery firm Agility Recovery and cybersecurity firm ProtectWise.
Editor's Note: This story was updated after initial publication to include mention of the 2017 sale of 1401 Lawrence.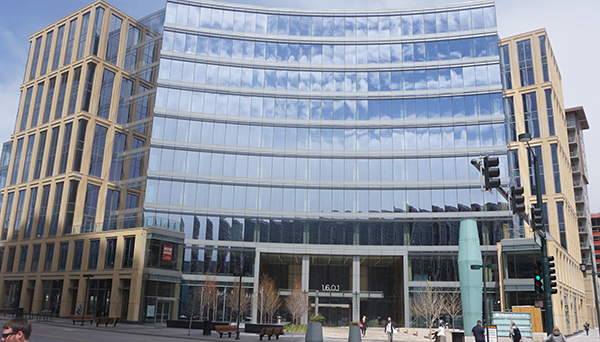 30523