A punny Denver bedding company that launched this year has begun shipping products to customers and raised a fresh round of funding from investors.
Sheets and Giggles, which makes bed sheets out of eucalyptus wood pulp, has raised $225,000 of additional funds, according to a Form D recently filed with the SEC. That's on top of $56,500 the company reported raising this year.
"We're going to use it to accelerate our growth for the holiday season and heading into 2019," said founder Colin McIntosh. "We're one year in and we're still standing on our own two feet. But at some point we have to step on the gas a little bit."
The company, which won first place at Denver Startup Week 2018, started shipping pre-orders last month, and has shipped about 80 percent of them so far, McIntosh said.
He said he expects the company to do $1 million in revenue in 2018.
"The demand has been almost impossible to keep up with," McIntosh said. "The frustrating part is just our capacity as a small team, with shipping logistics and inventory capacity."
McIntosh said he's been the only person working on the business full time, assisted by seven part-time employees. He said a portion of the new funds will be used to make some of the part-time roles — which involve marketing, social media and customer service — full time.
Prices for Sheets and Giggles' sheets range from $99 for an extra-long twin to $149 for a California King set.
McIntosh said the company plans to expand the color and sizing options for its bed sheets, as well as introduce a new product line — eucalyptus blankets intended for living rooms.
"You don't get that scratchy feeling like you get with a lot of couch blankets," he said. "It literally feels like you're in bed on your couch."
To McIntosh, Sheets and Giggles is about more than puns and comfortable sheets. His larger goal is to make consumers aware of more environmentally friendly alternatives to cotton, which include bamboo and hemp along with eucalyptus.
"We're all trained to think cotton is the best possible fabric for everything from clothing to the bedroom," he said. "But cotton is a huge water guzzler—thousands of liters of water used (to manufacture) each cotton bed sheet."
The Sheets and Giggles website claims that the company's sheets use 96 percent less water to manufacture than some cotton sheets.
For every order placed, the startup also plants one tree somewhere in the United States that's in need of reforestation, McIntosh said.
McIntosh also noted that, behind socks, sheets are the second-most-requested item at homeless shelters. To offset this, a donation bag is included with every order.
"People put their old bed sheets in that bag and drop them off at the nearest homeless shelter," he said. "And if someone sends us a selfie of them doing it, we send them a code for 15 percent off their next order just for being a good person."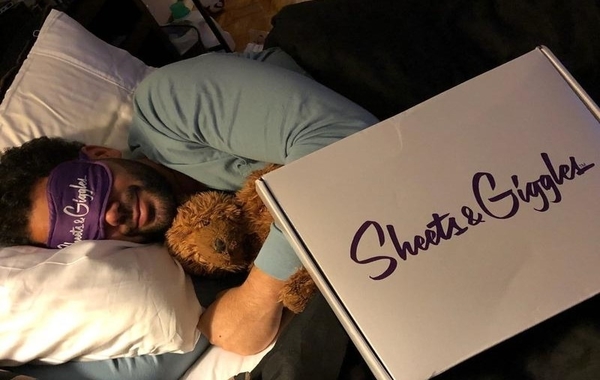 29869