An Aspen ski and snowboard brand is looking to spend more time on the water.
High Society raised $137,000 at the end of February from investors – money that owner Reggie Charles said is going toward making more paddle boards.
Charles said the company is pushing harder into standup paddle boards, which it's been selling for six years.
"It's more than half of our business now," he said. "We're trying to double our paddle board business just from last year.
"The majority of it is just for inventory," he said. "The thing that's limited us in the past is the last couple of years, we've sold out so quickly we haven't had any offerings in July and August. We wanted to make sure we maintain inventory levels."
And no one wants to paddle alone.
"More than half of our sales in the summer are two-board deals," Charles said, adding that it sells at a discount when customers purchase a pair of boards.
He said the company sold 500 paddle boards last year.
Charles, 37, moved to Aspen from Wisconsin 16 years ago. He worked at a shop in Snowmass and noticed not many ski companies were making twin tip skis. So, he found a friend with a ski press in New Zealand to start making them.
"It was kind of a mistake," Charles said. "It was supposed to be a short-term thing."
Fifteen years later, High Society is a pioneer of Colorado independent ski brands that have cropped up, including Meier, Liberty and Icelantic Skis.
"I think we were one of the first independent ski companies," Charles said. "We were different because we also made snowboards … we really found our niche when we started going direct to consumer."
High Society doubled its footprint last year by moving into a 1,500-square-foot showroom at 314 Aspen Airport Center. Charles and co-founder Jason Flynn are the only two full-time employees.
The company manufactures skis at Never Summer's factory in Denver, and paddle boards in Asia. New products in the works include hard paddle boards and split boards for snowboarders.
Charles said 75 percent of sales are direct to consumer.
Other paddle board makers in Colorado include Hala Gear in Steamboat Springs, Sol in Telluride and Badfish in Salida. Charles said High Society paddle boards – priced between $580 and $900 on its website – aren't built for specific kinds of paddling, such as whitewater or river surfing.
"We went after the universal use … we like our stuff to be a quiver killer," he said. "You have a thing to take multiple places."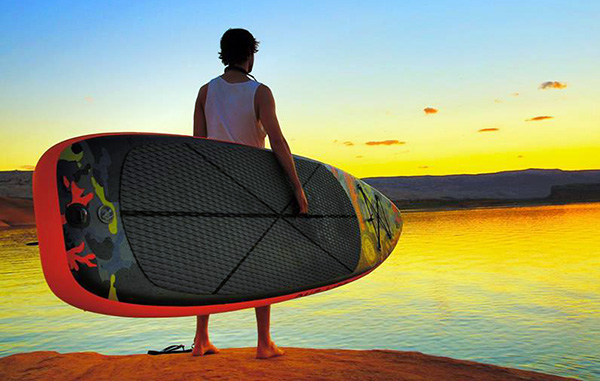 25701