A water monster has risen in Telluride.
Sol Paddle Boards has released an inflatable standup paddleboard as tall as a great white shark. Priced at $2,300, the SolFiesta can fit six people and is designed for the ocean and whitewater. Weighing 70 pounds, the board is 5 feet 6 inches wide and 15 feet long.
Founder Johnny Lombino released the SolFiesta as a family-friendly alternative to traditional one- or two-person paddleboards.
"A lot of the times, when people go to rent paddleboards, they want to go with their family," he said. "It's just kind of fun to do stuff together."
Sol will join a small flotilla of other board makers selling larger rafts. Hawaii-based C4 Waterman sells a $4,000 Supsquatch that fits multiple people, while Florida-based Imagine Surf also sells a six- to eight-person board.
The size of paddleboards isn't the only growing part of Lombino's business. The 40-year-old has lived in Telluride for 20 years, waiting tables and bartending. He started Sol in 2011 after a trip to Rio de Janeiro left him dissatisfied with paddling options.
"I saw what was out there on the market for paddleboards," he said. "Nothing was the quality (I was) looking for."
Now, Lombino has turned his initial efforts at improving the construction of paddleboards into a company buoyed by $1 million in revenue. Sol has expanded the number of retail shops carrying its products from 75 last year to 115 this year.
Lombino also pushed off from the home office, working out of Jagged Edge Mountain Gear in Telluride where he and co-owner Richie Parkhill work on design and sales.
Last year, Sol sold 2,000 boards, which range from $950 to $3,000 on the company's website. In addition to the SolFiesta, Lombino released a $950 river-surfing board called the Soljah, as well as the SolRebel, an package that includes a 10-foot paddleboard, paddle, wheeled backpack, pump and repair kit for $960.
"The paddleboard market is growing exponentially," Lombino said. "A beginner is very scared to get into a kayak and go … With a paddleboard, you're a little more free. You're standing. It makes it more exciting to paddle around a lake."
Sol paddleboards are available to Front Range customers at Confluence Kayaks and Golden River Sports, Lombino said.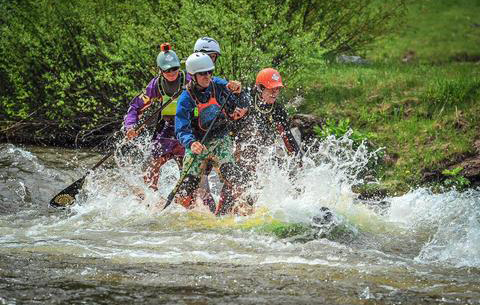 17173