Before any construction starts, the New York developer who proposed a massive new skyscraper – Denver's tallest by 25 stories – needs to buy two plots of land.
New York-based Greenwich Realty Capital is under contract to purchase the larger of the two, a 25,400-square-foot parcel at 650 17th St.
The 81-story building concept the company filed last week with the city also incorporates a 6,262-square-foot rectangular parcel at 1630 California St., which Greenwich Managing Director Michael Ursini said is not under contract.
"We've been speaking to the group for months," Ursini said.
The second parcel is owned by Massachusetts-based Franklin Properties Group, which acquired it when it purchased the Dominion Towers at 600 17th St. for $154 million in 2016.
The parcel is key to the building's future. Ursini said Greenwich wants it to increase the size of the base of the building, to increase the floor-area ratio.
Zoning in most of downtown does not limit building height as long as a structure meets a floor-area ratio requirement, according to Andrea Burns, spokeswoman for the city's planning department.
The proposed skyscraper was described as 90 stories when details first leaked in September. Materials submitted to the city last week are for an 81-story structure.
The building would feature a hotel and condominiums, according to plans. The bottom two floors would feature a lobby for each, as well as restaurant space. Above that would be about 10 floors of parking — enough for 780 cars — followed by 12 floors of hotel rooms and 52 floors of condominiums. The top eight condo floors would be penthouse units.
A handful of mechanical floors would be spread throughout the building. The plans estimate a $371 million project cost and a June 2019 start date.
Ursini emphasized that the tower plans are "still in evolution."
"Denver is a very, very attentive audience," he said. "In New York City, this building would go almost unrecognized."
The documents submitted to the city are a concept plan, which typically leads to the submission, months later, of a formal site plan, which features floor plan renderings and more specifics.
"How well the specific proposal aligns with the zoning regulations is something the city will be looking at as part of its iterative review cycles in the coming weeks and months," Burns said in a statement.
The parcel that Greenwich is under contract to purchase is owned by Paradise Investment Properties, led by Buzz Geller, who owns other prime parking lots around town.
Geller purchased 650 17th St. in June 2002 for $3.5 million, according to property records. He listed it for $17.5 million, and did not disclose the under-contract price.
Geller said Greenwich is the first company to put 650 17th St. under contract during his ownership. Other parties have been interested over the years, he said, but never progressed beyond letters of intent.
Geller said Greenwich's contract is contingent on it acquiring additional property, but the firm could build without 1630 California St.
"It makes it a much nicer project, a much larger project," if the firm can acquire the adjacent lot, he said.
Denver's tallest building is Republic Plaza, at 370 17th St. The structure, completed in 1984, is 714 feet and 56 stories tall.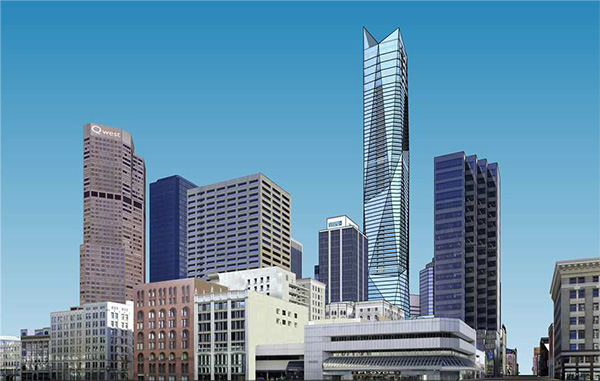 24109