Tenants of a downtown tower that recently sold for $154 million will still be mailing the rent checks to Boston.
Massachusetts-based Franklin Street Properties Corp. bought the Dominion Towers at 600 17th St. downtown for $154 million from fellow Beantown firm Beacon Capital Partners.
The 34-year-old pair of connected towers total 613,000 square feet, pegging the price at roughly $251 per foot.
Franklin Street highlighted the building's location and amenities, as well as an in-place lease rate it said sits at the low end of the market. The company said it also has $3 million in new capital investments planned for Dominion Towers.
Rental rates at Dominion Towers are about $19 per square foot, Franklin Street reported. In its investor presentation, the company said it thinks market rates could hit as high as about $21 per square foot.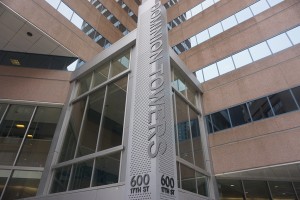 Franklin Street is anticipating the building will be 89 percent leased for 2017. Oil and gas company EOG Resources is the biggest tenant, taking up about 29 percent of rentable space. That firm is signed on through 2026, Franklin Street reported.

Franklin Street now owns three downtown office towers between Dominion Towers, 1001 17th St. and 1999 Broadway. Those three properties total more than 1.9 million square feet.

Franklin Street funded the acquisition with a $150 million unsecured, two-year bridge loan from JPMorgan Chase Bank, and covered the rest of the $154 million purchase price with cash. The company didn't take on any existing debt on the property in the deal.

Denver city records show Beacon paid $106.5 million for the property in 2012.

12985