Editor's Note: BusinessDen has written a follow-up story regarding this case
(10/17/18) Defense notches win in dispute between Denver-area attorneys over online review
Original story: There's a new clue in the case of two Colorado attorneys and the antagonistic online review that no one wants to claim.
The review, written under an alias, was posted from an IP address associated with one of the men's homes, according to court documents.
The recent revelation, however, has failed to bridge the seven-month dispute between attorney Mark Wilson and his former boss, Dochtor Kennedy.
Wilson sued Kennedy in federal court in Denver in June, claiming Kennedy penned a RipoffReport.com review calling Wilson's new firm "a sham of a company" that "flat out lied to customers."
In the lawsuit, Wilson said Kennedy fired him from Broomfield law firm AdvisorLaw, then authored the review under the name "Patrick Erickson" in an attempt to damage Wilson's new law firm, Wilson Law. Both lawyers represent financial advisors seeking to expunge consumer complaints from FINRA records.
The lawsuit also names AdvisorLaw and executive vice president Stacy Santmyer as defendants.
Kennedy has denied writing the review, naming former AdvisorLaw staffer Jason Bacher as the author. He has alleged Bacher penned the review after being manipulated by someone associated with Wilson, so that Wilson could blame Kennedy for it.
Bacher has signed an affidavit saying Kennedy tried to bribe him into taking responsibility for the review.
According to court documents filed this month, the review was posted between 7:21 and 7:25 p.m. on Nov. 2, 2016, from a device connected to an IP address specific to Kennedy's home.
Edward Hopkins, attorney for Wilson with Hopkins Way, said he learned the IP address by subpoenaing RipOffReport.com and a telecommunications provider.
In response, Kennedy has said in court documents that Bacher was in his home during the four minutes in question. Hopkins said he is obtaining evidence that will show Bacher was elsewhere at the time.
Wilson is seeking a court order that would require Kennedy and AdvisorLaw to delete the review or have its URL removed from search results. He is also suing for damages.
Kennedy has counter-sued, alleging that Wilson and other former AdvisorLaw staffers stole trade secrets from the firm, then authored the review so they could sue AdvisorLaw and damage the firm's reputation.
The defendants are represented by James Helfrich, Jennifer Schlatter, Jordan Factor and Kevin David Allen of Allen Vellone Wolf Helfrich & Factor.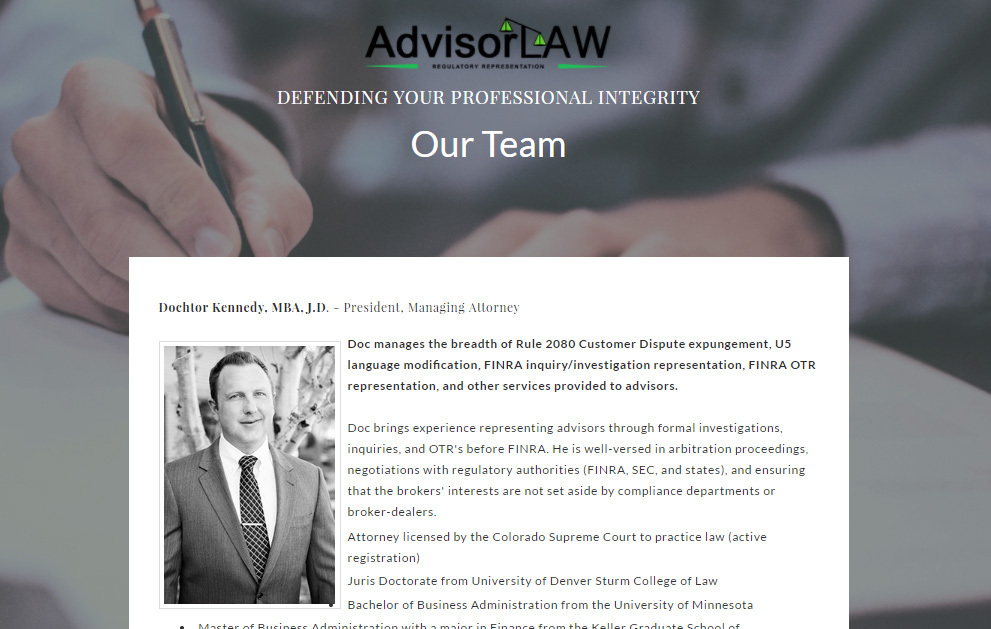 23382