Editor's Note: BusinessDen has written follow-up stories regarding this case
(10/17/18) Defense notches win in dispute between Denver-area attorneys over online review
(1/23/18) Attorney's offending comment posted from IP address associated with with former boss' home, court documents say
Original story: Who is the real Patrick Erickson?
That is the crux of a smoldering dispute between two lawyers, who used to be pals and co-workers but now are wrestling in court over the identity of an irate online review posted under the pseudonym Patrick Erickson.
In a federal court case filed last week, attorney Mark Wilson claims that his former boss at Broomfield law firm AdvisorLaw penned a bogus RipoffReport.com review calling Wilson's new venture a "sham of a company" that "flat out lied" to customers.
Wilson says Dochtor Kennedy fired him from AdvisorLaw, then authored the review under a pseudonym to burn his new law firm, Wilson Law. Both lawyers represent financial advisors seeking to expunge consumer complaints from FINRA records.
"Mr. Kennedy published the fake review to disparage Mr. Wilson and Wilson Law, prevent them from competing fairly against AdvisorLaw, and influence consumers' purchasing decisions by deceptive means," the complaint reads.
But Kennedy says the review's author is a disgruntled former employee at AdvisorLaw, and that Wilson has taken the bait in the employee's revenge plot.
"It's just somebody with a vendetta who's upset about something and needs somebody to blame," Kennedy said of Wilson in a phone interview, "and he hooked up with another psycho."
Wilson is suing Kennedy for defamation, racketeering, false advertising and civil conspiracy. The case, which names AdvisorLaw and its executive vice president Stacy Santmyer as defendants alongside Kennedy, was filed June 22 in U.S. District Court in Denver.
Wilson is seeking a court order that would require Kennedy and AdvisorLaw to delete the Ripoff Report review or have its URL removed from search results. He also is suing for damages.
Wilson is represented by Edward C. Hopkins Jr. and Alexandra Tracy-Ramirez with Hopkins Way.
Wilson and Kennedy overlapped as law students at the University of Denver, according to their LinkedIn profiles, where Wilson received his master of laws degrees and Kennedy graduated with a J.D. Kennedy said in an interview that he met Wilson when the pair worked at the same two companies prior to AdvisorLaw.
According to the lawsuit, Wilson joined AdvisorLaw in May 2016 and Kennedy fired him five months later, at the end of September.
Kennedy sent Wilson an email on Nov. 2 accusing him of using AdvisorLaw's "proprietary information" to start his own firm. Hours later, Wilson alleges, Kennedy posted the Ripoff Report review under the false name Patrick Erickson.
"(Mark Wilson) lied to me with no reservations," the review reads in part. "He made claims of his experience, affiliations, credentials, and acumen which were complete fabrications."
Suspecting that Kennedy wrote the review, Wilson confronted his one-time friend and boss in an email obtained by BusinessDen.
"In spite of every backstab I still love ya – I just know we can't ever do biz again," Wilson wrote. "The one thing I absolutely will not stand for is impugning my good name. Especially with such a (expletive) lie. I don't want (expletive) money, I don't want you to try and make up for the lies, I just want you to delete this (expletive) and give me a call."
Then, Wilson claims in the lawsuit, Kennedy bragged about the review to the Advisor Law staff. That includes a former employee whose signed affidavit says Kennedy tried to bribe him into taking responsibility for the review.
"Mr. Kennedy offered me $2,000 if I agreed to lie to Mr. Wilson and others by telling them I authored and published Ripoff Report 1336305 and that Mr. Kennedy did not author or publish Ripoff Report 1336305," the employee said in a sworn statement.
Kennedy remembers things differently.
In a phone interview, he denied writing the review and said the former employee, another long-time friend, wrote it because he was enraged that Wilson had started a competing law firm. But Kennedy said the former employee turned on him after he refused to lend him $7,000. Soon after, Kennedy said, the former employee signed the affidavit.
"It's all fabricated," he said.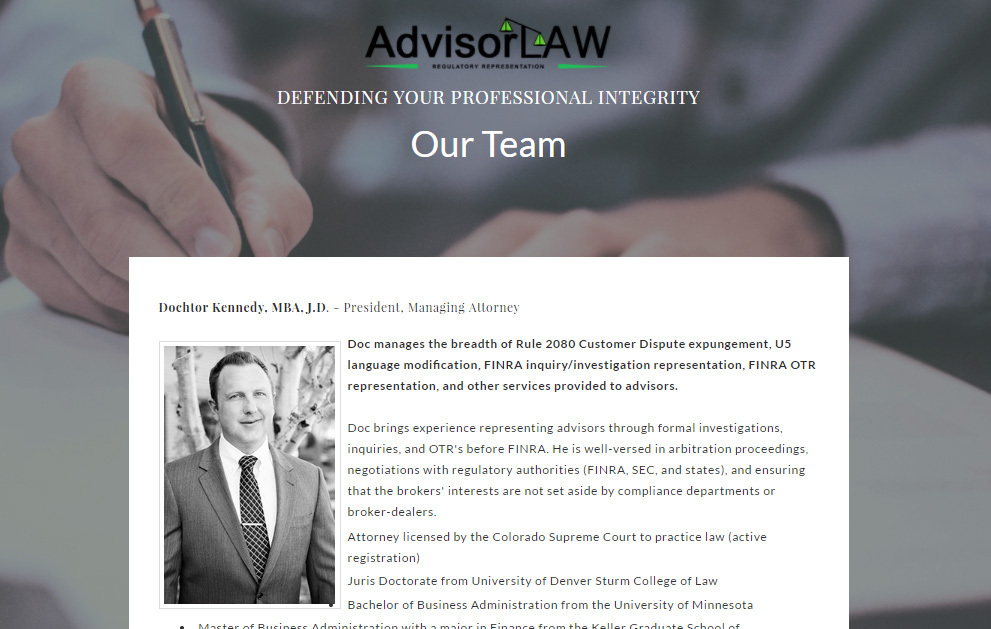 17992