The defense has notched a win in a dispute between local attorneys over a pseudonymous online review.
On Oct. 10, a federal judge rejected plaintiff Mark Wilson's claim that his former boss Dochtor Kennedy violated the false advertising provisions of the Lanham Act in connection with a negative review of Wilson that appeared on the website RipOffReport.com.
The review, which called the firm Wilson started after leaving Advisor Law "a sham of a company" and said the attorney "flat out lied to me," was written under the name "Patrick Erickson." Both sides agree that was a pseudonym.
Kennedy is the founder and president of Broomfield's Advisor Law, which represents financial advisors seeking to expunge consumer complaints from FINRA reports. Wilson joined the firm in May 2016, and Kennedy fired him five months later, according to the lawsuit. Wilson subsequently started Wilson Law; he also works at Denver law firm Whitcomb, Selinsky, McAuliffe, according to his LinkedIn page.
Wilson alleges that Kennedy authored the review, which was posted by a device associated with Kennedy's home IP address, one evening in November 2016. Kennedy, in turn, alleges that another individual, Jason Bacher, posted the review while connected to Kennedy's home Wi-Fi, so that Wilson would be able to blame Kennedy for it.
In her Oct. 10 ruling, Judge Marcia Krieger did not weigh in on who actually wrote the review, although she did characterize Wilson's claim it was Kennedy as "cogent, and perhaps even somewhat persuasive," but also not "irrefutable."
Instead, in response to Kennedy's request for summary judgment, Krieger rejected the Lanham Act claim, and dismissed other claims Wilson brought against Kennedy without prejudice.
Reached Friday, Kennedy said, "My faith has been, in a large part, restored in the justice system. "I hope that other individuals don't find themselves in the situation I was in."
Asked whether the dispute might continue, Kennedy said, "I don't know if Wilson would be foolish enough to appeal it."
Claims can be refiled, attorney says
Meanwhile, Ed Hopkins, an attorney for Wilson, cautioned against reading too much into the judge's ruling.
While the judge rejected the Lanham Act claim, Hopkins said, she dismissed the other claims against Kennedy solely because they concerned matters of state law. Dismissing them without prejudice means the claims can be refiled in state court, he said.
Hopkins said his client has 90 days to decide whether to refile, and is considering whether to do that or appeal the judge's decision to a higher federal court.
The bottom line, Hopkins said, is that unless a settlement is reached, the case will continue.
"There is no question that it will be refiled in state court if it's not appealed or settled," he said.
Kennedy estimated he has spent $275,000 in legal fees on the lawsuit.
"Realistically, Mark Wilson doesn't have access to funds to cover a settlement I would deem acceptable," he said.
Kennedy also said he might file in state court in an effort to "recover what was spent in the process."
Kennedy said he believes Wilson conspired with Bacher to have the latter write the review in order to get money from Kennedy. He alleged that prior to filing the lawsuit in June 2017, Wilson said he wouldn't do so if Kennedy paid him $500,000.
In rejecting the Lanham Act claim, Krieger wrote that, for something to be considered commercial advertising, "it must be disseminated sufficiently to the relevant purchasing public."
Krieger wrote that Wilson and his firm Wilson Law portrayed RipOffReport as a website that receives hundreds of thousands of visitors a day, but that doesn't mean those millions saw the single negative review of Wilson.
"And even if they did, the Plaintiffs offer no evidence to show that the visitors reading the review were otherwise potential customers of the Plaintiffs' services, rather than, for example, disinterested internet scamps vicariously enjoying particularly scathing poison-pill notes," Krieger wrote. "Thus, the mere fact of ripoffreport.com's popularity and characteristics does not substitute for proof by the Plaintiffs of actual dissemination of the Review to the Plaintiffs' potential customer base."
Hopkins, the attorney for Wilson, highlighted the fact that Kennedy had asked the judge to issue a summary judgment on all the claims, but the judge elected to address just one. Additionally, while the judge was unconvinced by the evidence related to who authored the review, "the standard she's using for summary judgment is not the same standard that a jury would use."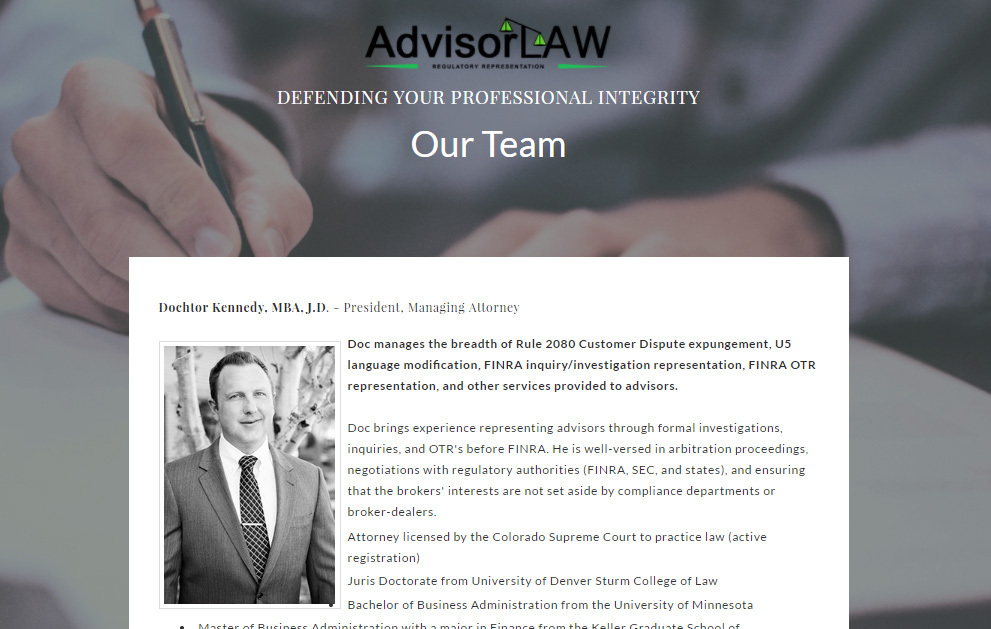 29320