Last fall, the owner of one of Colfax Avenue's oldest bike shops put out pleas on Craigslist and social media for someone to buy Two Wheel Feel.
Adam Williams, owner of SloHi Bike in Denver's Highlands neighborhood, answered the call, acquiring the shop at 3217 E. Colfax Ave. in mid-December and re-opening it as SloHi City Park on Jan. 10. He's still operating SloHi Bike as well.
Before former owner Scott Spero ran Two Wheel Feel, the shop was Collins Bicycles, a family-run bike shop since 1934. The Collins Family still owns the property, which Williams is now leasing.
"We outgrew the SloHi location in the Highlands probably two years ago," Williams said. "It really was a good time. We had good cash flow and we were able to fund it from the existing shop."
He said he hopes to preserve some of the fixtures from the original bike shop, including old Schwinn displays and a neon sign.
Williams, who's worked in bike shops for 25 years, connected with the Collins family over their shared love of the now-bankrupt Schwinn bike company.
"It's an old Schwinn store … I was a Schwinn diehard fan," Williams said. "A bunch of bike nerds go in there and we spend hours being unproductive and looking through old stuff."
In addition to preserving some of the historic feel, Williams' wife is working on a series of bike-themed art to decorate the space.
Williams opened SloHi Bike in 2013 and later bought the coffee shop next door to create a joint bike and coffee operation. Unlike Denver's many other shops selling mountain bikes, including South Pearl's new Basecamp Cyclery, SloHi sells bikes for urban cyclists and families.    
"We really have changed our focus to be more of a family store," Williams said. "The mountain bike market is very saturated in Denver … I felt the family and e-bike and all that was an underserved market in Denver."
SloHi also sells and services Yuba and Giant e-bikes.
"It's a very emerging market," Williams said. "It's something I thought would increase mobility. E-bikes are the access point to that."
The company hired two employees to help staff SloHi City Park, and plans to hire a couple more in the spring. In addition to bikes, accessories and bike tuneups, the shop also offers ski and snowboard tuneups during the winter.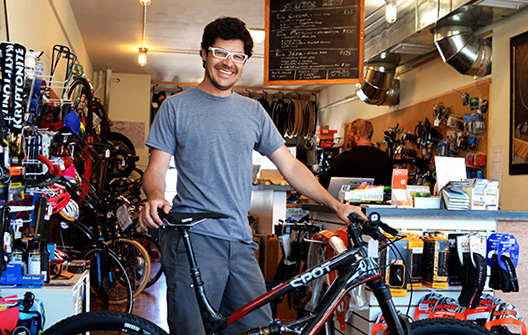 23171