Denver-based mortgage tech startup Maxwell says it can cut the time it takes to secure a mortgage loan in half.
Now, the startup has announced a $3 million seed funding round to get its platform in front of even more homebuyers.
"We're still mainly investing in hiring the right folks and enlarging our user base," CEO John Paasonen said.
London-based Anthemis Group, which focuses its investments on financial companies, led Maxwell's round, while Route66 Ventures, Assurant Inc. and past investors also participated.
This is Maxwell's largest amount of funding to date, after raising $500,000 and $1.3 million in 2015 and 2016, respectively.
"We went out originally to raise a smaller amount, but because we had so much interest, we increased the round," Paasonen said.
Maxwell makes software for loan officers helping homebuyers secure mortgages.
Paasonen said the average time it takes to secure a mortgage loan nationally is 51 days, compared to 26 days with Maxwell. The company lets homebuyers upload and store documents, such as W2s and bank statements, and then connect with 15,000 financial institutions.
"Ever interaction they have with their lender happens through Maxwell," Paasonen said.
He said the firm has handled $6 billion in mortgage volume and has sold its subscription-based software to lenders nationwide. Maxwell employs 12 people at its LoDo headquarters at 1624 Market St.
"We expect that to probably double within the next year," Paasonen said, adding the hires will be across all departments, including engineering, product, sales, customer success and design.
Paasonen and co-founders Lance Poole and Rutul Dave started Maxwell in the San Francisco Bay area in 2015. It moved to Colorado and went through accelerator TechStars in 2016.
"It's one of the best decisions we've made," Paasonen said. "We've been really pleased with the level of talent."
Denver is home to another mortgage tech firm, Promontech, which recently expanded its footprint in Writer's Square.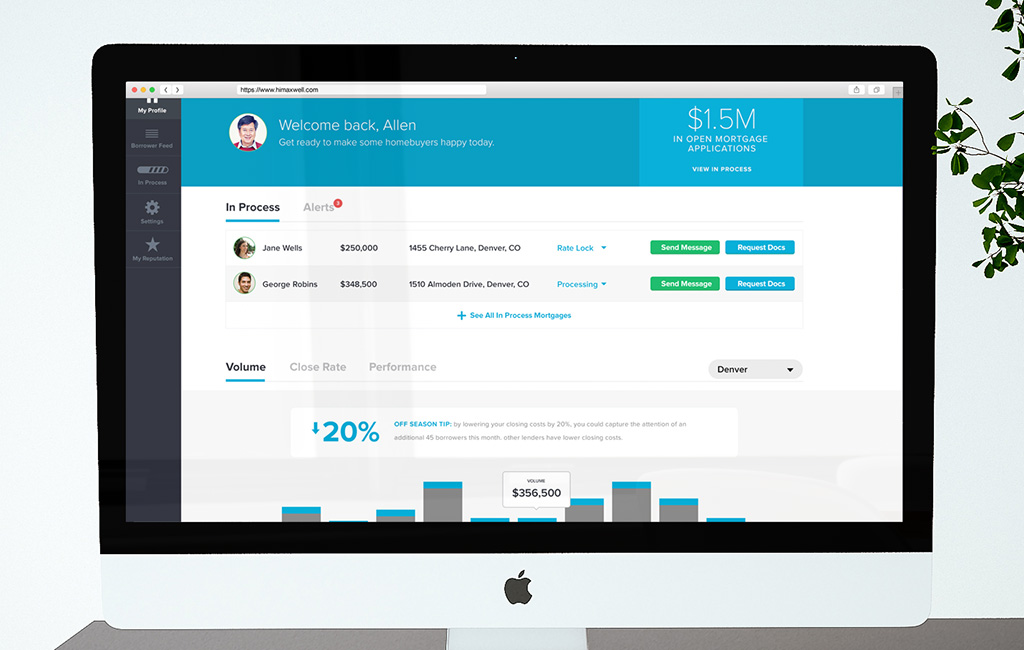 22302