A New York spinning gym wants to clip into the Denver market.
Flywheel Sports leased 4,500 square feet on the first floor of Cadence, an apartment complex at 1920 17th St. in Union Station.
"We've been talking to them for two years now," said Jeff Bernard, retail director for Holland Partner Group. "It's so busy down there now that it makes sense."
Flywheel aims open in spring. The studio will have 70 bikes for cycling classes and a barre studio.
"Whole Foods is obviously open across the street," Bernard said. "There is going to be 80 people coming and going for classes … they will really activate the street and make it fun and lively."
Flywheel, founded in 2010 in New York, is a cycling and barre studio where instructors lead fast-paced spin classes. It lists 42 studios on its website, including 10 in New York.
Memberships vary, but in Scottsdale, a monthly membership costs $200, while a drop-in class costs $25.
A Flywheel spokesperson declined to comment.
The chain will face stiff competition for indoor exercise bike classes. Locally owned gym Epic Ryde has an outpost in RiNo, while Endorphin Fitness has 11 locations. And Boston-based Cyclebar has six metro-area locations.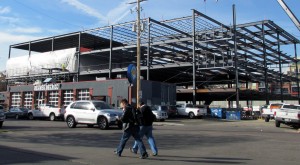 22647