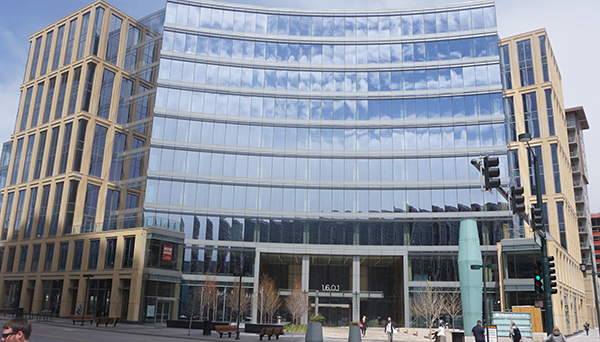 Denver's largest accounting firm wants in on the action at Union Station.
New York-based Deloitte confirmed Tuesday that it leased 44,000 square feet in 1601 Wewatta, the 300,000-square-foot development by Jordon Perlmutter & Co. and Hines behind Union Station.
In an email to BusinessDen, a Deloitte spokesperson said the firm plans to move into its new offices in July.
The spokesperson said the company will migrate its audit, tax, advisory and consulting personnel from 555 17th St. to Wewatta Street. Deloitte said it will continue operating in a leased 21,800-square-foot office at 1400 16th St.
Deloitte has nearly 1,000 Denver employees, a spokesperson said. That puts the firm just ahead of KPMG, Denver's second-largest accounting firm, according a recent list by the Denver Business Journal.
1601 Wewatta opened in 2016.
NAVA Real Estate Development, the group behind a Sloan's Lake development, became the first office tenant at 1601 Wewatta St. last June, taking 2,100 square feet on the building's eighth floor. Hogan Lovells, the building's office anchor tenant, has moved into its new digs, as has cybersecurity startup ProtectWise.
Hines announced in March that Westminster-based Agility Recover leased 36,000 square feet in the building. At the time, Hines told the Denver Business Journal that the Agility lease and a lease by an unnamed accounting firm brought the property to 76 percent occupancy.
The development also hosts the Colorado Athletic Club on the second floor and restaurants on the first floor.