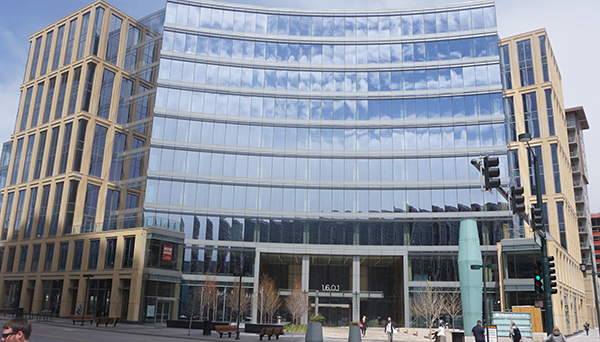 Union Station looks to be getting a bar food, beer and seafood pairing at one of its newest developments.
California-based Grill Concepts Inc. is doubling down on 1601 Wewatta St. After announcing plans to open beer and pub food spot Public School 303 late last year, Grill Concepts  has applied for a separate liquor license for Wewatta Point, a seafood restaurant, at 1601 Wewatta.
Grill Concepts CEO John Sola referred questions on Wewatta Point to a company marketing representative, who declined to comment about the restaurant. But according to media reports, Denver's will be one of the first of its kind.
Food & Drink International reported in March that The Point Restaurants is a new fresh seafood brand that Grill Concepts is rolling out with Laurel Point in Studio City, Calif., and Wewatta Point in Denver.
Liquor license applications for Public School 303 and Wewatta Point, which will be heard on May 27, list addresses that put the two restaurants on either side of 1601 Wewatta. Public School 303 is at the building's west side at 1959 16th St. Wewatta Point shares the building's namesake 1601 Wewatta St. address, which would put that eatery on the development's south side.
There are at least six other Public School locations already in operation, according to Grill Concepts' websites. Grill Concepts' other brands include The Grill on the Alley, Ritz Prime Seafood and Daily Grill.
Los Angeles-based Kelly Architects is handling design work for both Public School 303 and Wewatta Point, according to that company's website.
The two restaurants will be on the ground floor of 1601 Wewatta, a 283,000-square-foot office building at the corner of 16th and Wewatta streets. The tenant roster also includes law firm Hogan Lovells and the Colorado Athletic Club.