It's a long way from New York to Las Vegas. So a company that rents touring vans is setting up a new hub in Aurora.
Escape Campervans, a Los Angeles-based van rental company, is opening a new location near Peoria Street and Smith Road in April.
"Denver just made a lot of sense for us," said Will Hubbard, who is leading the company's expansion to the region. "It's just full of the people (who) are our customers."
Escape Campervans rents campervans equipped with beds, cooking supplies and other camping gear. The company has hubs in Los Angeles, San Francisco, Miami, Las Vegas and New York. The Aurora outlet will be at 3538 Peoria St., and Escape is launching another in Seattle this year.
The company has 450 vans in two models, a Ford E150 and a Dodge Caravan. Daily rates depend on the driver's age and dates: An off-peak week rental in March is $57 per night for a driver over 26 years old, while Escape charges $143 per night for a 21-year-old driver over the Fourth of July weekend.
In Denver, Hubbard said Escape will keep a fleet of 18-foot Ford E150s to rent out. Those vans come equipped with a two-person bed, pop-up table, kitchen and storage space, as well as seats and seatbelts for five people. They also have a rooftop tent for another person, a two-burner stove, sink and a refrigerator or cooler box.
"We're seeing a lot of growth with Americans and millennial travelers spending a lot of money on experiences," Hubbard said. "People like to explore and they like doing it in a unique way."
Hubbard picked the Peoria Street location for its proximity to the RTD light rail. He said the nearest stop is about halfway between the airport and Union Station.
"It's awesome for traveling with public transportation," Hubbard said. "We get a lot of international customers … that's why we picked that location."
Hubbard thinks Escape will have between 10 and 15 parking spots for the vans. Hubbard is Escape's lone employee at the Peoria location, but he plans to hire more employees once the business is off the ground.
Hubbard said 75 percent of Escape's customers were international, but more recently, U.S. customers have made up about half of sales.
Escape is not the only campervan business in the Denver area. Native Campervans, a RiNo van company, outfits Dodge Caravans and most recently Ram ProMaster Cargo Vans, while Rocky Mountain Campervans outfits vintage and modern campervans.
Escape started in New Zealand in 2003 and migrated to the U.S. in 2009. The founders, three traveling friends, started the business with 10 Astrovans, Hubbard said. The vans are easily recognizable for their colorful paint jobs done by local artists in Los Angeles, and Hubbard said he is talking with Denver artists to paint some of the new vans.
"People become really attached to the artwork. It gives the whole experience a little more excitement," Hubbard said.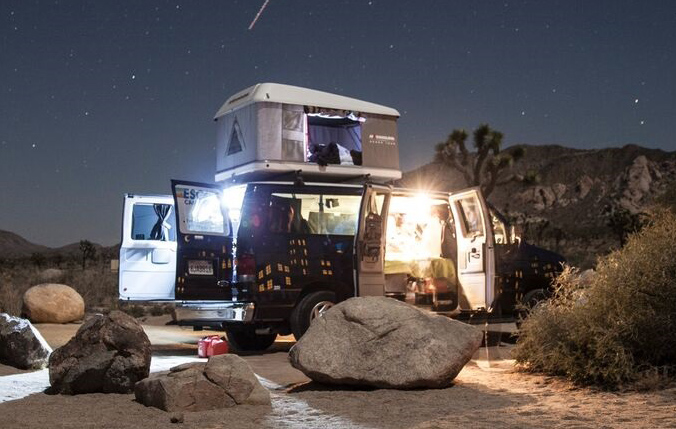 15014