Punch Bowl Social is dipping into six more cities this year, buoyed by $40 million in revenue from 2016.
Founder Robert Thompson last week said that his food, booze and bowling concept that started in Baker has half a dozen restaurants launching in 2017 and three more leases inked for 2018.
Those new spots include a location in Atlanta near the Braves' new baseball stadium, which Punch Bowl first announced last week, and planned Punch Bowls the company previously unveiled in cities including Chicago and Stapleton.
Thompson said Punch Bowl Social has been preparing a big 2017 for two years. Punch Bowl has its sights on specific kinds of real estate, he said, and has established a different revenue mix than gaming-and-food incumbents like Dave & Buster's.
"We've figured out that we work in urban and quasi-urban locations," said Thompson, 45.
That second category includes places where Punch Bowl isn't in a suburb, but also isn't in the thick of downtown. The company record-holder for single-restaurant sales is in a shopping mall outside of downtown Minneapolis, which Thompson said grossed $11 million last year.
The chain also became fond of real estate near sports stadiums. In Detroit, Punch Bowl is a few blocks from a football and baseball stadium. In the pipeline this year are Punch Bowls built into new developments that host the Sacramento Kings and the Atlanta Braves.
"We don't want to be the only driver in a given place, so sometimes we can find the right kind of food and beverage clustering in these (stadium) districts," Thompson said.
Punch Bowl Social has eight restaurants nationwide. Here are nine more on the way:
Rancho Cucamonga, Calif. – April 2017
Sacramento, Calif. – Aug. 2017
Atlanta, Ga. – Sep./Oct.

 

2017
Chicago, Ill. – Nov. 2017
San Diego, Calif.– Dec. 2017
Brooklyn, N.Y. – 2018
Dallas, Texas – 2018
Arlington, Va. – 2018
Half of Punch Bowl's revenue comes from beverage sales, Thompson said. The company designed beverage menus Thompson said could stand on their own, independent of the bowling, karaoke, table and arcade games.
Gaming brings in 11 percent of sales at Punch Bowl, Thompson said. That's different from Dave & Buster's, where 53.2 percent of a total $867 million in sales revenue came from games in the year ended Jan. 31, 2016, according to SEC filings.
Punch Bowl now looks to take a bigger gulp out of bigger markets. Revenue at Punch Bowl locations averages between $6.5 million and $8 million annually, Thompson said. But in prime real estate, and in a city like Chicago, Thompson is targeting sales of $12 million a year.
Capital funding has also helped the restaurant feed its appetite for expansion.
Thompson has used a network of equity shareholders, primarily family offices and high net worth individuals in Colorado, to raise growth funding. He estimates those equity shares, plus some debt, total $40 million since he started fundraising in 2010.
And Thompson isn't planning to slow down in 2018. He said the concept has already signed leases in the Bushwick neighborhood of Brooklyn, Dallas and Arlington, and is eyeing real estate deals in Washington, D.C., Hawaii and Philadelphia.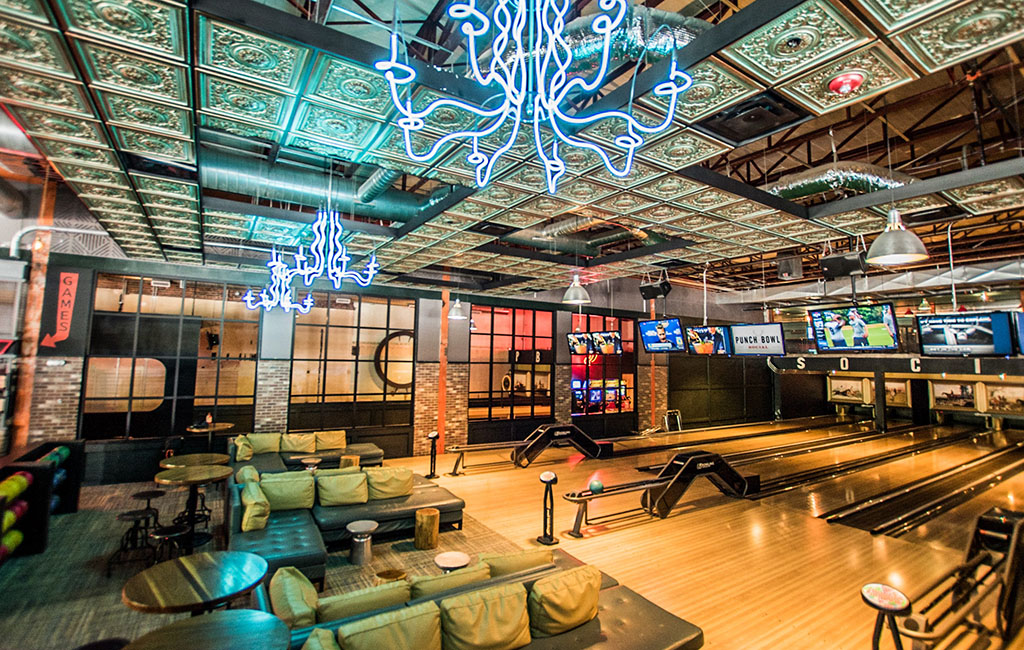 13959