Defying local real estate skeptics, the rent keeps marching upward.
The median effective rent at one-bedroom units at 17 large apartment buildings polled by BusinessDen – from Cherry Creek and Golden Triangle up to Highlands, Union Station and RiNo – rose 4.7 percent in December 2016 compared to the same month in 2015, from $1,432 to $1,500. (Effective rent subtracts specials, such as a month of free rent, from the advertised rent and is the most accurate representation of how much renters pay each month.)
Twelve of 17 apartment complexes raised rent in 2016. The Platform at Union Station raised rent the most, charging new renters $1,770 per month, up nearly 16 percent from a 2015 BusinessDen poll.
Part of the reason for the rise around town: Many landlords reeled in specials last year that gave new tenants a break on the first month or more of rent.  
Put another way: renters at Westend, a building in LoDo that had the median effective rent in our poll this year, will pay $67 more per month for a 2016 to 2017 lease than they would have if they had signed last December, when Westend was touting two months free for new tenants.
BusinessDen surveyed 23 large apartment buildings, 17 of them in 2015 and 2016, totaling about 6,300 units. Many apartments in the survey are part of the residential building boom sweeping the city over the past three years, as newcomers keep coming and developers keep building to house them.
The U.S. Census shows that Denver's population increased by 11.6 percent, almost 80,000 people, in the five years ended July 2015. Last year, Denver's population growth was high even by national standards: Census data shows Denver outpacing the 49 other most populous U.S. cities.   
Meanwhile, by BusinessDen's tally, at least 4,600 units hit the Denver rental market in 2015 and 2016, a drop in the bucket considering the U.S. Census counted 140,000 rentals in Denver in 2015.
Buildings in overbuilt neighborhoods still need to lower rent
While the median rent went up in 2016, some landlords are pitching real deals; five of the 17 buildings polled twice, in 2015 and 2016, decreased effective rent. 
In Golden Triangle, for example, The Acoma used to be the only high-end apartment tower. In 2015 it rented one bedrooms at $1,945 a month and laughed at any prospects asking about a discount. Now it competes with the new 1000 Speer, called The Joule before it sold for a record price per unit.
Both towers have caved into doling out specials. The Acoma is offering a free month of rent, causing effective rent to drop 11 percent to $1,725 per month. At 1000 Speer, which claims it is 70 percent leased, the deal on the table for renters this December is far better than last year: one and a half months free, plus a $150 break on fees and three months of free parking.
Effective rent comes out to $1,562 a month, even leaving the parking perk out of the equation. Compared to a new renter at 1000 Speer last year, a new renter today would have saved $450 in 2016.
The only other building to drop effective rent by more than 5 percent was 2785 Speer, a gargantuan complex with 332 units that towers over Speer Boulevard at the edge of the Highlands. That building dropped effective rent 9.5 percent in 2016.
On the horizon in 2017
The march of new construction goes on in central Denver. At least 5,000 more units in central Denver are set to start leasing in the next two years, by a BusinessDen tally.
Those new units pose competition for established properties, says Jonathon Papsin, a real estate broker at Colorado & Company who specializes in residential leases at high-end properties downtown and in Cherry Creek.
Papsin points to One City Block, for example, which is now facing increased competition from new builds like SkyHouse Denver and Alexan Uptown. Even so, according to BusinessDen's survey, One City Block's effective rent rose even more than its list price indicates.
"I struggle with understanding where rents are headed right now," Papsin said. "But base rents will have to come down, just because Denver wages haven't kept up with rental raises.
"Even with two months of free rent, you still have to qualify financially at the end of the day."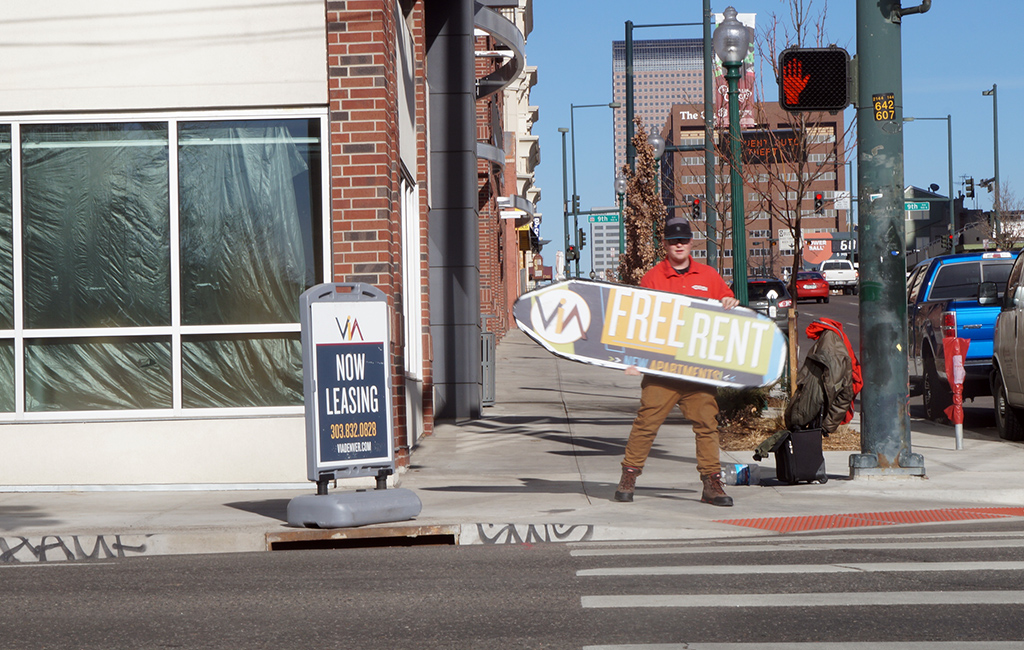 13506