Defunct for-profit occupational school Heritage College grossed $50 million and paid executives six-figure salaries in the months before it announced it would drop out of the education industry, according to bankruptcy paperwork filed last week.
Wheat Ridge-based Heritage College shut down all ten campuses, including one near Lakeside, on Nov. 1, leaving faculty clamoring for paychecks and students wondering what will become of their assignments and tuition.
Filing bankruptcy under the name Weston Education Inc., the 30-year-old vocational school this week released detailed financial statements as part of a Chapter 7 bankruptcy liquidation filed in November. 
Heritage College, which taught vocations like fitness training and massage therapy in Colorado and six other states, valued its debts at $14.5 million against $76,000 in assets, according to court documents.
The occupational school reported in its bankruptcy filings that it grossed $60 million in 2015 and $50 million in 2016 up until Nov. 21. The school reported paying 14 top administrators more than $3.4 million.
Former Heritage College CEO Eric Chiusolo, who previously had a 16-year career as a Medieval Times executive, made $651,000 between late November 2015 and this September, according to court filings, including $330,000 in bonuses.
Chiusolo is suing Heritage College in an employment dispute in Larimer County. He did not return a call seeking comment.
Heritage College owner Earl Weston paid himself $507,000 starting last November, according to bankruptcy filings. Heritage reported that it owes Weston an additional $400,000.
Weston has not returned messages left at other businesses he owns, including Weston Auto Gallery in Fort Collins and online colleges U.S. Career Institute, At Home Professions and McKinley College.
The demise of Heritage follows a string of for-profit college closures over the past two years, among them businesses like Corinthian Colleges and ITT Technical Institutes that folded under the weight of federal investigations into fraud and unsavory sales techniques.
The Department of Education is, similarly, trying to crack down on Heritage College through a 2011 lawsuit brought by a pair of former Heritage College employees on behalf of the DOE.
That suit, which is currently on appeal before the Eighth Circuit, alleges that Heritage College falsified grades and other records so that it could milk students for their college loans, with little regard for the quality or utility of instruction.
But the company has also benefited from federal student loans. According to a panel of judges on the Eighth Circuit, Heritage received $33 million from the Department of Education from 2009 to 2012, accounting for 90 percent of its gross tuition.
But former teachers and school administrators have given Heritage poor marks.
Some disgruntled faculty and staff members have sued. They say the school shortchanged them when it slammed its doors shut in November. In a pair of proposed class action lawsuits, including one in Colorado, former employees allege that the school failed to give them the customary 60 days' notice before it closed.
The proposed class action in Colorado tallies some 600 Heritage employees across the country. It says student enrollment is down 64 percent over the past three years, to 1,800 students in 2016.
Only seven of the roughly 900 creditors listed in bankruptcy documents have a secured claim against the college. Heritage College also owes a number of local businesses money.
According to bankruptcy court filings in Denver, Guaranty Bank and Trust Company has a claim of $644,000 for a business loan.
Heritage College is out $180,000 to its landlord in Wheat Ridge, RQL/Lakeside Office Park, LLC, which owns the office building where Heritage has its headquarters at 4704 Harlan St., according to Jefferson County Property records and bankruptcy filings.
And Heritage owes $129,000 and $120,000, respectively, to Denver-based digital marketing agencies Akavit and Adcellerant.
Former Heritage College employees did not return messages or declined to comment on the record. Weston Educational, which does business under the name Heritage College, is being represented by Aaron Garber of the law firm Buechler & Garber.
The court has currently scheduled a Chapter 7 meeting of creditors for 11a.m. on Dec. 15 in Room A of the Byron Rogers Federal Building in Denver.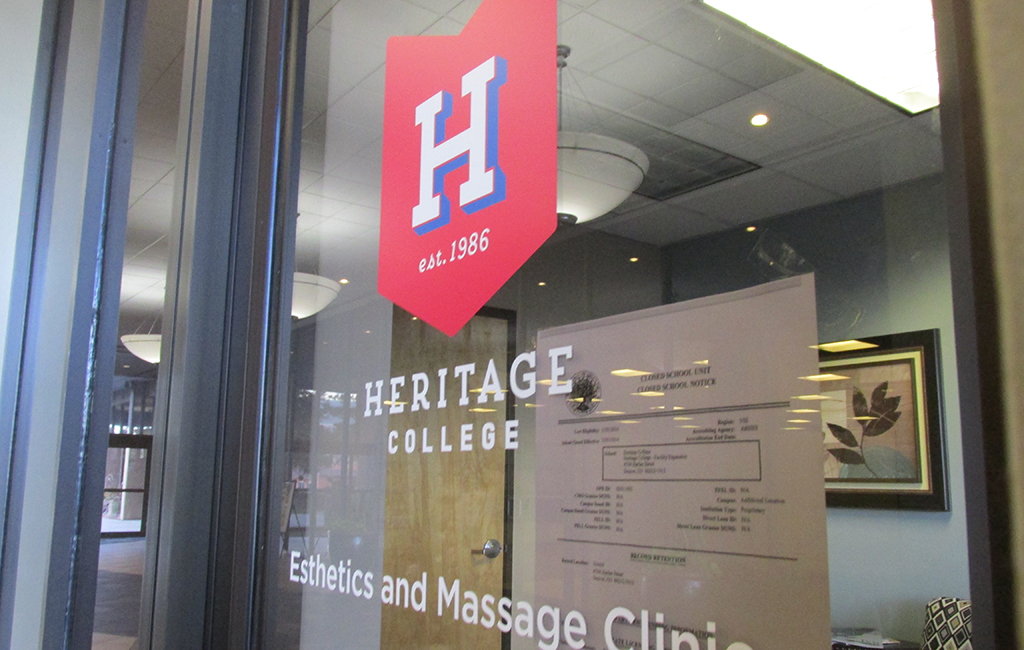 13159