An Arapahoe County car dealership is hoping to drive out a competitor before it can pull into Centennial.
Mercedes-Benz of Littleton sued national company Mercedes-Benz, USA last week to stop another Mercedes dealership from opening on its turf, according to a lawsuit filed in Arapahoe County District Court on December 5.
The suit alleges the car company's North American distributor and manufacturer representative Mercedes-Benz USA worked out a deal to bring an out-of-state competitor to Centennial, just nine miles from Mercedes-Benz of Littleton.
"Mercedes-Benz USA, LLC's decision effectively would decimate and cannibalize [Mercedes-Benz of Littleton's] business," the suit reads "And unfairly deprive [the dealership] of benefits in making multi-million dollar investments in its business, facilities, reputation and goodwill over decades."
Mercedes-Benz of Littleton has been in business since 1996, the suit reads, and sits just north of C-470 at 8070 S. Broadway. The proposed dealership, which would be run by Pennsylvania-based Bobby Rahal Motorcar Co., would sit at 13831 E. Arapahoe Place.
The Littleton dealership also names Bobby Rahal Motorcar Co. in its complaint.
Mercedes-Benz of Littleton alleges that Mercedes-Benz, USA "actively and secretly solicited" proposals from outside dealers to move into the area from which the existing dealership claims to draw its customer base between 2015 and 2016.
In July 2016, according to the suit, a Mercedes-Benz USA employee traveled to Colorado and told managers at Mercedes-Benz of Littleton that the national distributor had already decided to establish a newer dealership nearby.
The Littleton dealership claims it was not afforded a chance to discuss or rebut the decision to build the new Mercedes dealership.
The lawsuit states that the national Mercedes-Benz company then sent a letter to the Littleton dealership in October announcing their intent to open a new dealership at the Arapahoe Place location. That letter was in accordance with a Colorado law requiring car companies to notify their existing franchise holders at least 60 days before of opening a new dealership nearby.
Meanwhile, Mercedes-Benz of Littleton complains it has made significant investments in its own dealership – both of its own accord and on directive from Mercedes-Benz, USA – without knowing that a new competitor could be moving in.
The lawsuit specifically states that the Littleton dealership recently put about $300,000 into a full LED lighting upgrade. Mercedes-Benz of Littleton also claims it has bought new lifts and spent millions on mandated Mercedes-Benz upgrade initiatives called "Autohaus" and "Autohaus 2."
"MBOL made these considerable investments and improvements in reliance upon its reasonable assumption that MBUSA was not taking affirmative acts to undercut MBOL's investments and goodwill by effectively giving its customers to a newly established dealership," the suit argues.
The lawsuit accuses Mercedes-Benz USA of violating Colorado state law by failing to "reasonably evaluate" the size of the investments Mercedes-Benz of Littleton has put into its own operation; the growth or decline in population and car registrations in the area; and whether the Littleton dealership is providing adequate and convenient care for Mercedes owners.
Colorado statute states that the burden of proof for each of those issues falls on the licensing agency (in this case, Mercedes-Benz, USA), not the franchise bringing the complaint (Mercedes-Benz of Littleton).
The Mercedes-Benz of Littleton suit also accuses Mercedes-Benz, USA of fraudulent concealment and breach of implied covenant of good faith and fair dealing. The existing dealership asks the court to issue a permanent injunction blocking the proposed dealership from opening.
Brownstein Hyatt Farber Schreck attorneys John McDermott, Jonathan Pray and Hannah Caplan are representing Mercedes-Benz of Littleton.
Neither McDermott nor Mercedes-Benz of Littleton general manager general manager Sean Farshchi returned phone messages seeking comment on the case by press time. Bobby Rahal Motorcar Co. president of operations Eric Hessinger did not return a similar message. An email to Mercedes-Benz, USA's media relations contact was not returned.
Mercedes-Benz of Littleton is one of three currently Mercedes dealerships in the Denver area. Mercedes-Benz of Denver is about 12 miles from the Littleton dealership (and 10 miles from the proposed Centennial dealership) on Colorado Boulevard. The third is farther north in Westminster.
Mercedes-Benz of Denver pumped tens of millions of dollars into its own dealership over the last year or so. Its ownership group Sonic Automotive is finishing up brand new, $25 million homes for both its Mercedes and BMW dealerships on Colorado Boulevard.
Bobby Rahal Motorcar Co., the franchisor Mercedes-Benz of Littleton is trying to keep out of Centennial, is based in Wexford, Pennsylvania. The company does not have any Colorado dealerships at this time.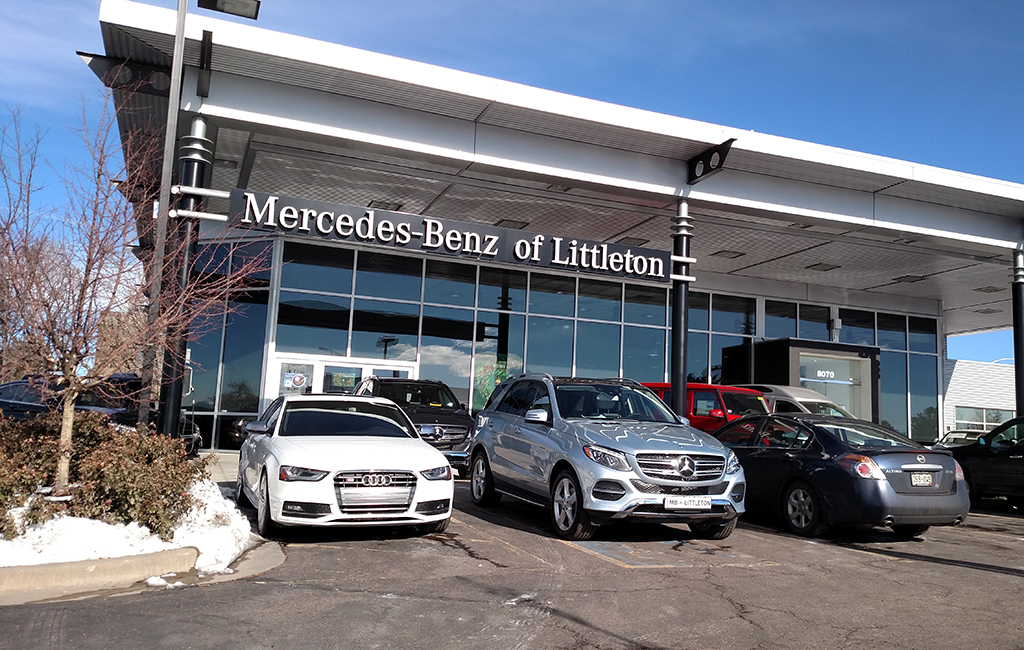 13128