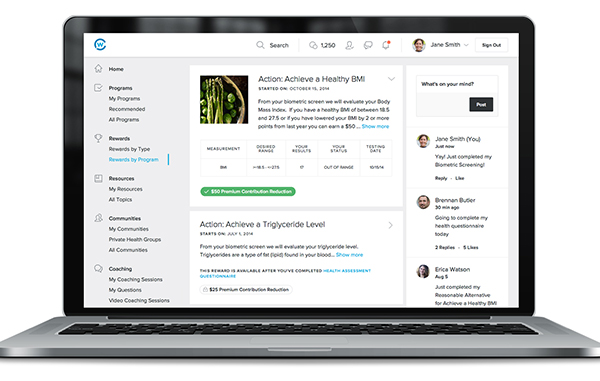 After a buying spree last year, healthcare software firm Welltok has netted another $33.7 million investment.
The LoDo-based tech firm, which makes software that aims to help users adopt healthier habits, says it has raised $163 million to date.
Chief Technology Officer Brian Garcia said its most recent financing round, disclosed in a filing with the SEC Oct. 6, will let Welltok build on the technology from two companies purchased in 2015 (Predilytics and Silverlink.)
"Some of the biggest features that we're working on have to do with the acquisition activity," he said.
Predilytics will help Welltok to use health care data as well as shopping and voting behavior to point users toward relevant programs.
Investors in this funding round include:
New Enterprise Associates
Bessemer Venture Partners
Georgian Partners
Emergence Capital
InterWest Partners
Sigma Partners
HLM Venture Partners
Flare Capital Partners
Trustmark
Qualcomm Life Fund
Hearst Health Ventures
Singapore-based EDBI
Okapi Venture Capital
Miramar Ventures
And Silverlink makes it easier for Welltok to contact people, whether by phone, text, email or mobile app.  Garcia said that's useful for reaching Medicare enrollees, for example, since Welltok can now contact them over the phone so that they can opt in to receive emails.

Welltok also wants to make using its products enjoyable, Garcia said, unlike the forms and fax machines its customers might have used to communicate with health care providers in the past. The goal is not to distract from the health-related information it shares with users.

"How do you get the technology to fade into the background?" Garcia said.

In a press release on Oct. 6, Welltok said it raised $33.7 million from investors and received a $13 million loan from Silicon Valley Bank. (For investors in this round, see the break out box.)

Welltok customers include large employers like the state of Colorado, insurance companies like Aetna, and large hospital organizations like Centura Health, Garcia said.

Customers purchase a subscription to Welltok's CafeWell software on behalf of, say, employees or people in its health care plan.

Then, the user can see a customized plan. An employee at risk of developing diabetes, for example, might receive a plan on CafeWell to change her diet and exercise habits. If she does, the employer customer can fund a reward like a gift card and give it to the employee using CafeWell, too.

In addition to subscription fees, customers can purchase additional services.

Welltok declined to discuss whether it is profitable, but according to Inc.com, its revenue was $10 million in 2014 and $26.2 million in 2015.

Founded in 2007, Welltok now has six offices in the U.S. Most of its 400 employees are in Colorado.

11853