A downtown CrossFit gym has more room for burpees, pushups and kettle bells at a new location in Prospect.
CrossFit LoDo moved out of its Blake Street home of six years for a new spot on 29th Avenue in Prospect two weeks ago. Owner Ryan Anderson said space was getting tight and he was about to lose some on-street parking due to a major construction project starting next door.
"We've been pretty tightly packed for a while now and the lease is coming up," he said. "And with the building next door getting demolished and about two years of construction coming, it seemed like the right time to go."
CrossFit LoDo launched about six years ago at the corner of 24th and Blake streets, near the former River North Brewery building that is set to be replaced by a new apartment complex.
The gym is subleasing its new space at 601 W. 29th Ave. from Block by Block, a company Anderson said previously used the building for storage. Paul Kahn of Shames Makovsky represented CrossFit LoDo in its site search.
Anderson said he wanted to stay near Union Station and the namesake LoDo neighborhood. And while the new gym is technically in Prospect, Anderson said if you want to get picky about neighborhoods, CrossFit LoDo's first location was probably in Ballpark anyway.
Anderson said he liked the building's small parking lot out front. At the Blake Street location, gym members had to park on the street in spaces he's afraid will disappear when construction starts on the neighboring building.
He also said his new building in the Prospect neighborhood, which residents are rebranding as "Union Station North," could help him tap into a new clientele without losing any current members.
CrossFit LoDo has already been in touch with apartment complexes like the Huron and the Casey in hopes of getting their name out to nearby residents.
"We're moving half a mile away, so we're keeping all of the people who were here before," he said. "But we're also moving near all these new apartments and may might some new business there."
Anderson said his sublease lasts for three years and rent came to about $13 per square foot per year. CrossFit LoDo is putting another $35,000 worth of improvements to the building, including touching up the bathrooms and other cosmetic details.
Meanwhile, Anderson is trying to diversify his niche fitness business by adding treatments like facial stretching and tissue therapy – both services offered by third-party contractors Anderson brings in.
He also pointed out a second-story mezzanine section he thinks would be great for workouts of a calmer type.
"I'm very much trying to get a yoga side going," he said. "This is a CrossFit gym, but there aren't a lot of places for other workouts and treatments in this immediate area."
The 29th Avenue spot is the second new gym Anderson has opened in the last year and a half. He added CrossFit LoDo at RiNo last spring after signing a 2½ year lease at 3595 Wynkoop St. Eventually Anderson said he would like to have a handful of gyms around Denver.
But as he looks to bulk up the business, Anderson is making contingency plans in case he has to step backwards amidst a wild real estate market.
Anderson said the building is about 1,800 square feet bigger than the original CrossFit LoDo. That's a big help, he said, for a gym that's nearly full with about 450 members between its flagship location and RiNo. The 20-foot ceilings are also great for rope climbing.
But Anderson also wanted to leave himself some extra space in case the RiNo development boom finds its way to his gym on Wynkoop Street.
"I feel like this space is big enough that if I needed to condense everything here, I probably could," he said.
He acknowledges that sort of uncertainty is a cost of doing business in Denver's hippest and fastest growing neighborhoods.
"These spaces all feel like temporary spaces to an extent," he said. "I would love to eventually own a building of my own, but there's not enough zeros in the bank account for that just yet."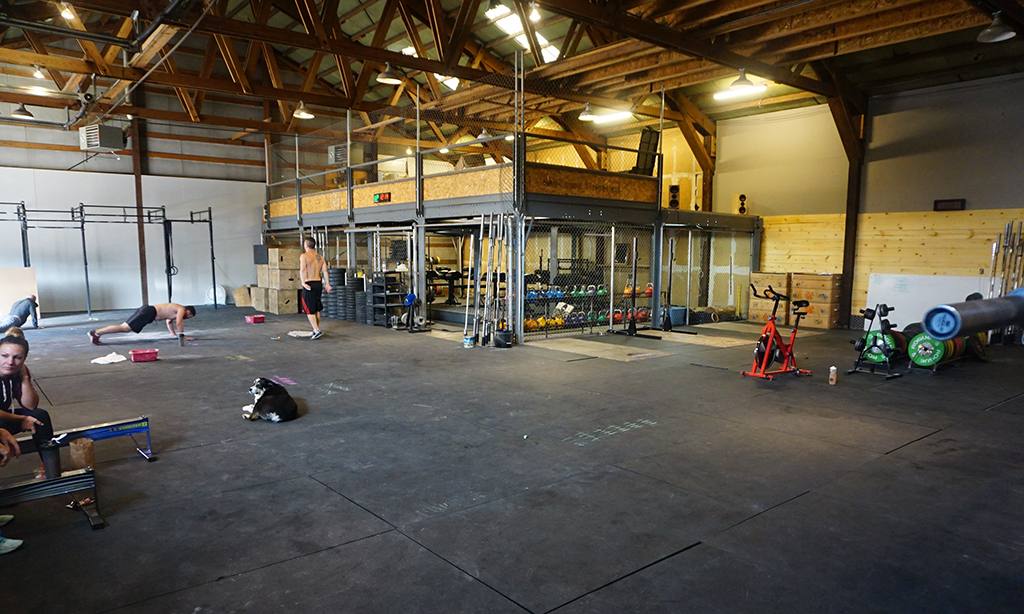 10942