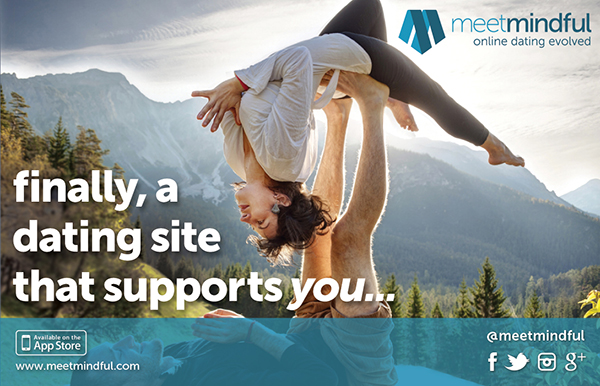 A dating app for singles that prefer meeting people while stretching instead of swiping has raised $820,000 as it contemplates pushing into Portland, Ore., this fall.
Singles using MeetMindful, a Denver-based dating website, share the details of their meditation practices, spiritual beliefs and even dietary restrictions in the hopes of finding a like-minded soul mate.
CEO Amy Baglan said the Front Range remains MeetMindful's most-concentrated market. But in the fall, the company will try out a new marketing plan to see if it can attract more singles in Portland, Ore.
"Portland is larger than Boulder, but smaller than Denver," Baglan said. "It has a high concentration of people in our demographic. And Portland helps us to test what launching in a new city that we're not from is like."
The startup disclosed in a June 3 filing to the SEC that it seeks $1.6 million. Ten investors have contributed so far. (Baglan declined to comment on the capital raise, which has not yet closed.)
Baglan started MeetMindful in 2014 as an offshoot of YogaDates, a yoga speed-dating event series she founded. Singles are prompted to list their passions – a personal mantra, mindful living practices or "imperfections I'm embracing or changing" – to find a match.
Free members can browse profiles and see matches, but can't send messages or see who's viewed their profiles. Pricing for those features starts at $29 for a month and goes up to $110 ($9 a month) for a year.
Last November, the company reported raising $100,000 in a filing with the SEC. And this winter, it was one of 11 companies to participate in a three-month Techstars class in Boulder.
Baglan wouldn't share revenue projections for 2016, but said MeetMindful had 100,000 members (most between 35 and 55) and generate $50,000 in revenue in May.
Besides Denver and Boulder, Baglan said the dating service has customers in Los Angeles, San Francisco, New York City, Austin and other cities.
Baglan wants to use Portland as a test case before investing more resources in those metro areas. In the fall, MeetMindful plans to launch events at local yoga studios, meditation centers and meet-up groups to spread the word in Portland.
"What happens is that people have these pockets, these communities that they built," Baglan said, whether it's a meet-up of vegans or a weekend hiking group. "But they don't necessarily have a way to manage those communities online in an organized fashion."
Still, Baglan said most MeetMindful daters first encounter the website via sponsored posts on Facebook, Google or Elephant Journal, a Boulder-based website Baglan calls "the Huffington Post for the mindfulness crowd."
Since graduating from Techstars, MeetMindful has moved into WeWork in Union Station. Baglan said it's an easy commute for the company's seven employees and that there's space for more. MeetMindful is hiring a lead product designer to test new features and website layouts, as well as a digital marketing manager to direct online advertising campaigns.