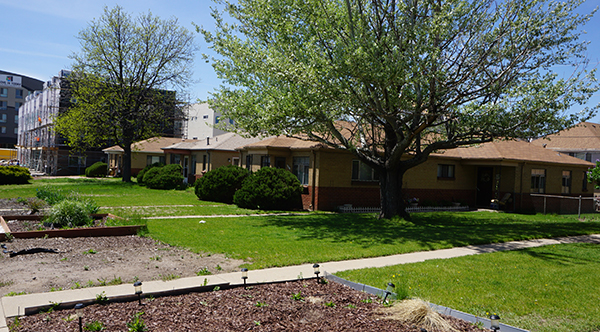 The condo-defects law isn't scaring off this Cherry Creek developer.
Nest Home Co. is building 37 condominiums at 109 S. Harrison St. in Cherry Creek. Company manager Reid Phillips said there are plenty of buyers looking for condos, and he's trying to get ahead of the curve in a market depressed by the threat of construction-defects lawsuits.
"It's a product that hasn't been built, and it's in incredible demand," Phillips said. "With Denver passing their reform, it pushed us more in this direction. Obviously there's still risks, but because of some of the recent decisions, we're getting more confidence."
Colorado's current construction-defects laws, developers argue, have stifled condominium development because the rules make it easy for homeowner's associations to bring large and costly class-action lawsuits against builders.
In turn, they say, this can drive up insurance premiums on condo projects to the point where the development no longer makes financial sense.
The project is called The Cassidy, and plans call for three floors of condominiums with underground parking. The building will be laid out like an apartment building, with indoor hallways, and condos will range between 1,200 and 1,600 square feet.
Phillips said the smallest units will start in the high $400,000s and run up to the mid-$600,000s. He anticipates they'll sell to empty nesters looking for a lock-and-leave living situation who don't want to bother with stairs in a three-story townhouse.
"They want single-level units and Cherry Creek is all townhomes and single-family homes," Phillips said. "Really, this will be the least expensive new construction for someone to move in and have single-level living."
The Cassidy will take up about 0.72 acres from 109 S. Harrison St. to 147 S. Harrison St. Nest Home bought the land in three transactions last week for $2.88 million. The company financed the acquisition with a loan from Montegra Capital Resources.
Phillips' plan is to start demolition in August in hopes of finishing the project towards the end of 2017. Boulder-based Studio Architecture is designing the Cassidy. Symmetry Builders is the general contractor. Phillips has not yet finalized a construction loan.
Dawn Raymond at Kentwood Cherry Creek is the listing broker for the Cassidy condominiums. Phillips said the plan is to release the first 12 units for sale sometime next month.
Condo development has been a struggle in Denver in recent years, but some builders are inching back over to the for-sale side. NAVA Real Estate Development is planning a 12-story condo tower in Sloan's Lake, and East West Partners is going for more than 300 condos in Union Station.
Nest Home is already busy in Cherry Creek. Phillips said the company has 68 for-sale units either under construction or working through entitlements. That includes 15 townhomes south of the Cassidy at a project named Terrace South.
"We envisioned taking a whole block on Harrison and redoing it," Phillips said. "And the opportunity to add condos here was very attractive."