Another piece of a West Colfax Avenue land assemblage has fallen into place for a marquee Sloan's Lake developer.
EnviroFinance Group (EFG) bought a small Sloan's Lake parcel at 4017 W. Colfax Ave. last week for $260,000. The company now owns an entire block of Colfax frontage from Quitman to Perry streets, and Cameron Bertron, senior vice president, said an affordable-housing project is in the works.
"EFG has assembled the site, is planning abatement, demolition and other site work such as utility relocation," he said. "We are working with the Denver Housing Authority on a mixed-use building with affordable, senior housing as well as health care and other community services."
EFG has been scooping up smaller properties on the block just south of its massive St. Anthony's hospital site in the last couple of years. The company has put together a little more than an acre between Perry Street, Quitman Street and Colfax Avenue in four separate deals since March 2014.
EFG's newest property houses one small, vacant brick building. It's a 62-year-old, 834-square-foot store that Wireless Image, which sells Metro PCS and Boost Mobile phones, previously occupied.
That shop moved two blocks up the street to Tennyson Street and Colfax Avenue before leaving West Colfax for another shop on Federal Boulevard.
In an interview last April, Bertron said the plan is to clear the former Wireless Image building, a car lot EFG bought next door and two nearby parcels to make way for a mixed-use development.
He said the project could include health care-focused commercial space on the first floor and likely more than 100 affordable or senior housing units on the upper levels. The property is zoned for up to eight stories of development.
EFG has had an option to buy the 4017 W. Colfax Ave. parcel since at least last spring, Bertron told BusinessDen. The company bought Infinite Auto, a now-shuttered used car lot next door at 4035 W. Colfax Ave., in April 2015 for $1.35 million. It added a single-family home just north of the auto lot two months later for $534,000.
EFG also owns an apartment complex that surrounds the former wireless phone store at 1511 Perry St.
The Colfax assemblage is coming together as construction continues to ramp up at the former St. Anthony's hospital site, a 20-acre, master-planned development that EFG is piecing together.
There, Trammell Crow is building a two-block apartment complex, NAVA Real Estate Development is planning a condominium tower and a new retail center anchored by Alamo Drafthouse Cinema is on the drawing boards. A new batch of townhomes also is slated to start construction this month.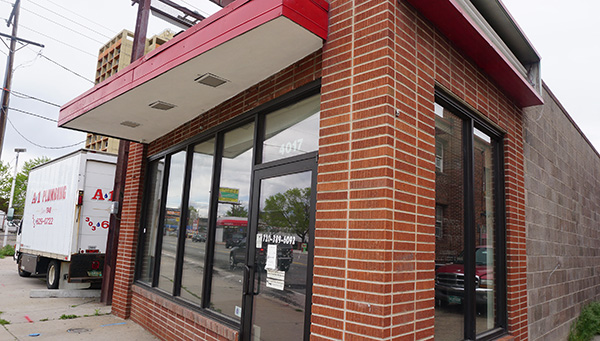 8691