Just in time for its one-year birthday, a 300-unit Union Station apartment building has new owners.
Los Angeles-based American Realty Advisors bought Elan Union Station last Tuesday for $154.3 million, city records show. The Union Station development includes 314 apartments and 58,000 square feet of retail space anchored by King Soopers.
Factoring in the retail space, ARA Newmark broker Terrance Hunt estimated the deal came out to between $410,000 and $412,000 per apartment.
"That's a pretty big number for right now," Hunt said. "Multifamily prices continue to escalate, even though there is some concern, depending on what reports you read, about development downtown. But most of the cranes you see are for hotels or office buildings."
Apartment giant Greystar developed Elan Union Station in a partnership with Goldman Sachs. The building opened in May 2015. A Colorado Real Estate Journal story from 2014 pegged hard construction costs at more than $50 million.
The building stands six stories tall and totals more than 300,000 square feet. It covers nearly every bit of a 2.4-acre lot at Chestnut Place and 20th Street, save for a pair of courtyards in the middle of the building.
Rental rates start at $1,556 for a 527-square-foot studio, according to the building's website. The biggest three-bedroom units rent for more than $4,200 a month.
The project's ground-floor King Soopers was also the first supermarket to open in LoDo. Hunt said the building's retail component made it especially attractive to buyers.
"The retail is a huge value because you have a high-credit tenant and the only downtown grocer right now, so what the buyers were attracted to was that anchor stability," Hunt said. "No matter what happens in the multifamily market, you're a little bit insulated."
Elan is also the first new Union Station apartment complex to change hands. But is staying busy in the neighborhood. It plans a 142-unit building next door called Ascent Union Station. That building will tower over Elan Union Station and top out at 14 stories.
Greystar also spent $64 million last year to acquire the 1000 S. Broadway apartment complex just south of Interstate 25.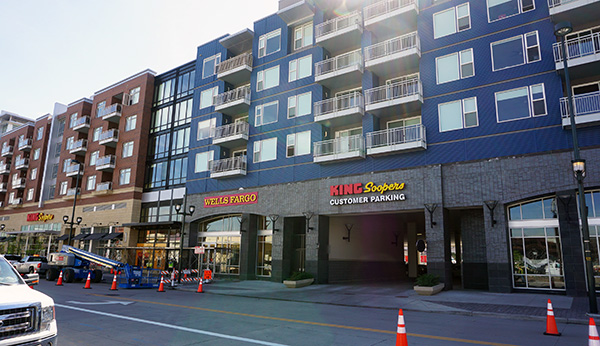 8679