With $1.9 million in equity squared away, a LoDo startup is preparing for a round of new hires.
Field Squared, which makes software for enterprises such as oil and gas companies to build mobile apps their field techs will use, disclosed its raise to the SEC on April14.
Field Squared CEO Jason Doherty said the company shifted from selling to mom-and-pop contractors to businesses with at least 200 field workers. It's also hiring more technical support and sales staff.
"We weren't set up to sell to enterprise about a year ago," Doherty said. "But we realized that large enterprises have the same problems (as smaller companies), and they were looking down the barrel of half a million dollars to build mobile apps for larger crews."
Workers using Field Squared apps can find directions for where to fill an order, then mark up photos and forms when they get there. Back in headquarters, managers can track workers moving through the field and automatically see how much time their staff spends on each job.
Doherty said one way Field Squared is courting larger customers is by letting them start with a blank screen and build an app from scratch, rather than tinker with a prefab app that doesn't suit their workflow.
And to pitch IT staff, Field Squared made their software compatible with enterprise cloud providers so that all departments, franchises or contractors can upload data on a Field Squared app.
Doherty said Field Squared has 20 customers, including utilities and shipping companies. But oil and gas companies represent the majority of customers since Field Squared started selling to enterprises.
"The downturn in the oil and gas industry has actually been a really good thing for us," he said. "These companies have to figure out how to be efficient."
The company just hired three more software developers and two more technical support staff to teach customers how to use the software, Doherty said. It is now seeking a vice president of sales and hopes to grow from 15 to 20 employees by year-end.
Doherty declined to quote exact figures, but said Field Squared prices contracts on a per-user, per-month basis. On average, Field Squared sells 200 to 500 licenses to a given customer, he said.
Other Denver startups also have built mobile platforms designed for field workers in businesses where employees might be scattered over a large area.
TrackVia makes software to build inventory and production-tracking apps. But Doherty said those products are meant for a factory, not for scheduling field visits and directing workers to navigate to them.
"We're designed for guys in trucks," Doherty said, noting that rivals such as FieldAware and ServiceMax do have scheduling and routing features.
And Cartasite, also based in Denver, has released a mobile app for field workers to upload information on customizable forms in addition to its catalog of Wi-Fi- and GPS-connected sensors.
For this funding, Field Squared aims to sell $2.2 million in equity total, Doherty said, with the goal of being cash-flow positive in the next few months.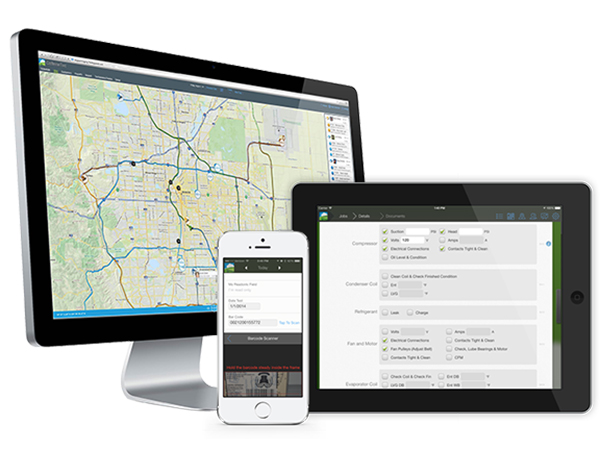 8518