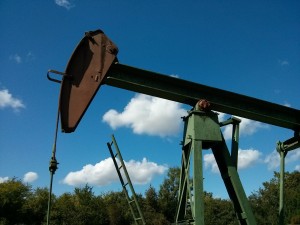 There could be an upside to low crude oil prices for one Colorado company serving the energy sector.
Cartasite, a Denver-based technology company, has closed a $7.5 million funding round to court customers outside the energy industry and to get its latest product to energy customers.
Cartasite, which makes sensors that energy companies use to track field workers and equipment, said it closed an equity investment from private equity firm Bison Capital last week.
With oil prices plummeting, Cartasite CEO David Armitage said the 12-year-old company chose to raise outside money rather than reinvest profits so that it could develop new products and move into new markets faster.
"For us to secure growth capital at a time when our historical, legacy markets are in such a period of economic pressure is an extraordinary opportunity," he said. "It allows us to, one, expand into these adjacent markets with similar operating characteristics and, two, deepen the product suite that we offer within oil and gas and mining, specifically aligned with reducing operating costs."
He said Cartasite is interested in scoring customers in the construction, forestry, freight shipping and utilities industries.
Cartasite, which has 34 employees in Colorado and an office steps away from the Pepsi Center, produces a variety of devices that use GPS and wireless Internet.
Its existing products track vehicles, equipment and people across the geographically scattered field operations of large energy companies such as Anadarko and ConocoPhillips.
One product tracks how often each truck driver in a company fleet speeds or brakes abruptly. Another pings to companies the location of workers traveling on foot, even if they're out of wireless range, and lets workers raise a red flag if they need help. A third sensor alerts firms when equipment such as a generator is in use.
Sensors save customers money by preventing on-the-job accidents, by making it easier for field workers to file paperwork from a wireless device, and by preventing theft and misuse of equipment, the company says.
Now that energy customers have cut their workforces and seek more ways to wring savings from their balance sheets, Armitage said the timing is right to pitch a new product.
One new device is a sensor that measures the water level in tanker trucks carrying saltwater, which is used in oil site production. Once it's installed, Armitage said, field workers won't need to pull over and climb atop a tank to check the level and companies can prove compliance with waste disposal laws.
Armitage declined to disclose Cartasite's revenue figures, but said the company is profitable and was valued at six times revenue before receiving its funding round.