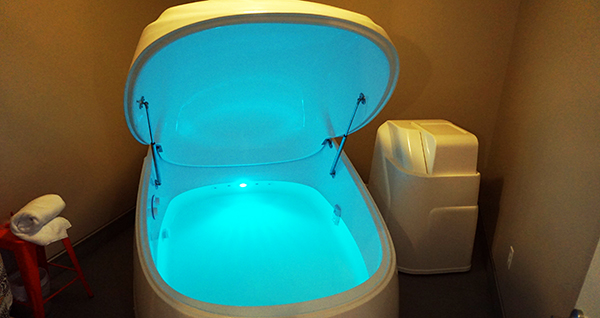 Paul and Heather Clift are floating a new business idea to help Denverites unplug and unwind.
The husband-and-wife duo founded Samana Float, a spa in RiNo offering 90-minute sessions in saltwater sensory-deprivation tanks. It opens next week at 1307 26th St. in RiNo.
"We picked this area because it's an arts district and we're interested in working with local artists – a lot of creative ideas can bubble up in the tank," said  Paul Clift.
Neuroscientist John C. Lilly invented the first isolation tank in 1954 to study how the human mind reacted to sensory deprivation. Users float on water in tanks, which are kept silent and dark to block out the outside world.
It's grown in popularity, with athletes such as Stephen Curry, Golden State Warriors point guard, and JJ Watt,  Houston Texans defensive end, using the tanks for their alleged health benefits.
The Clifts invested $175,000, which they saved during previous careers in real estate.
There's the additional cost for four isolation tanks, which run about $25,000 each, he said. Samana Float has two types of tanks, both built by Norfolk, Virginia-based Superior Float Tanks: an oblong freestanding "pod" and three "cabins," which are built into the walls of the building.
The Clifts signed a lease on the 1,700-square-foot space last May. The building includes First Draft, a  self-serve bar that opened last summer.
The Clifts met Philadelphia native Chris Rys, who had run an isolation tank clinic in Philadelphia, at an industry event in Portland, Oregon, last August. The Clifts named Rys general manager.
Isolation tanks offer two main health benefits, Rys said.
"It takes the pressure of gravity off your body, so your heart doesn't have to work as hard to circulate your blood," he said. "That's good for recovery (after physical activity). Mentally it's on par with the benefits of meditation; you get in there and take all distractions away."
Isolation tanks help users rest up faster after strenuous activity and also grant bursts of creativity, Rys said.
Samana sells single 90-minute tank sessions, called "floats," for $65, according to its website. The company also offers membership packages of one, two, four and eight floats per month for between $60 and $360.
A client enters the tank naked – swimsuits are a breeding ground for bacteria, Clift said. There's no light in the tank, and although clients can listen to music, Clift suggests complete silence for the best experience.
Each tank is filled with about 300 gallons of water and 1,100 pounds of Epsom salt. The salt changes the density of the water to make a client buoyant and float, giving the illusion of weightlessness.
The water temperature is kept at 93.5 degrees, the skin's base temperature, Clift said, to make the environment indistinguishable to human touch.
Samana Float isn't the only isolation tank center in Denver . There are at least three other spots in the city, including Denver Floatation Center in Littleton, Healing Waters in Northglenn and New Spirit in Denver. But the RiNo operation does have one advantage over its competitors: its proximity to downtown. The next closest place you can float is at the New Spirit spa near Sloan's Lake.