Two entrepreneurs in the Santa Fe Arts District think there's still meat on the bone of a business model that fizzled in Denver last year: the combination of dog park and bar.
Vincent Palazzotto and John Comandari hope to launch their bar, dubbed Biscuits and Brews, this summer above their current doggy day-care site, Woof in Boots, at 719 W. 8th Ave.
The Bark Bar tried the model before, opening in Berkeley in 2013. But complaints from neighborhood residents about excess barking noise led the Denver Zoning Administration to issue citations that forced the bar to close last summer. 
"When we looked at Bark Bar's model and saw it come and go, we loved it," Palazzotto said. "They were pioneers. We learned what we could from them and used it to make our own model."
It's an ambitious project: a 2,000-square-foot rooftop bar and patio featuring between 18 and 24 Colorado brews on tap, plus a 2,000-square-foot rooftop dog park featuring artificial turf, aspen trees and a water fountain to keep pooches cool during the dog days of summer.
Biscuits and Brews also will have food service, Palazzotto said.
"The way the zoning law reads is that you can't allow dogs and table service," he said. "So you walk up, order it at the bar and grab your food."
The menu will feature items such as pizza, sandwiches, salads and skewers, priced between $7 and $15, Palazzotto said.
To prevent local officials from euthanizing their idea, the pair started an online petition calling on neighborhood residents to support Biscuits and Brews.
The petition already has garnered 458 signatures out of the 500 that it needs to be submitted to the Judy Montero, Denver City Councilwoman for the Santa Fe Arts District, and neighborhood president Jack Pappalardo.
Biscuits and Brews will have another edge over the Bark Bar when it comes to quieting yappy mutts, Palazzotto said.
"We have the doggy day care downstairs, so if we have a loud dog we can take them inside and they can bark all day long," he said.
It'll cost about $500,000 to get Biscuits and Brews off the ground, the pair said, including $250,000 to build the bar and restaurant, and an additional $250,000 to build the dog area.
Palazzotto and Comandari are paying $5,800 per month in rent, Palazzotto said.
To help offset startup costs, Palazzotto and Comandari have launched a fundraising campaign for Biscuits and Brews on Equityeats, a crowdfunding website for restaurants. They're trying to raise $250,000, Palazzotto said.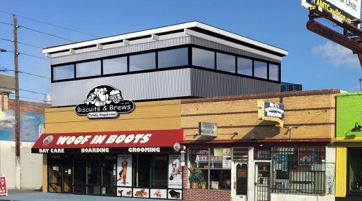 8346