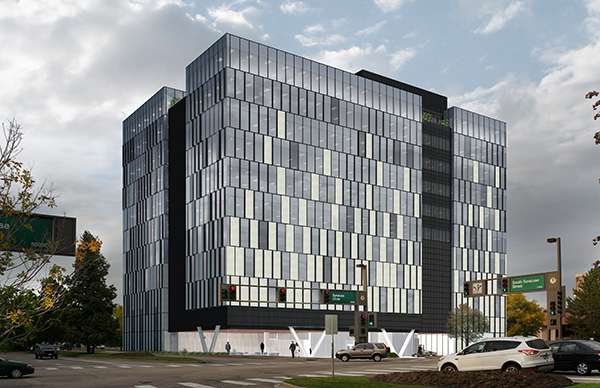 Another new DTC office building will come out of the ground this fall.
Corum Real Estate announced Thursday it will build a 12-story, 187,000-square-foot office building at 5050 S. Syracuse St. The company hopes to break ground on the project later this year and finish it near the middle of 2018, according to a Corum press release.
Company principal Michael Komppa did not return a message by press time Thursday.
Plans call for five floors of parking, six floors of office space and a first-floor lobby. Each level of office space has a floorplate of about 30,000 square feet.
Bill Woodward and Randy Swearingen of Inverness Properties will handle the building's leasing. According to Corum's announcement, 5050 South Syracuse could accommodate tenants as small as 2,500 square feet.
Clutch Design Studio is the architect on the project and Hensel Phelps is the general contractor.
Corum will build on a 1.25-acre parcel just east of I-25 between Belleview and Union avenues. The property houses Garcia's Mexican Restaurant. A 5050 South Syracuse, LLC owns the site, buying the real estate in 2001 for $1.365 million.
The DTC building makes at least two Denver development projects Corum has under construction. The firm also is building a 124,000-square-foot warehouse just off I-25 in Adams County.
Another 300,000-square-foot office building broke ground at 6165 S. Willow Drive near the Tech Center earlier this year. Granite Properties owns that $100 million development.