A developer is picking up the pace in SloHi with a new mixed-use project.
Denver real estate firm SC&P is adding 20,000 square feet of retail and office space to the 29th Avenue corridor running on the edge of Sloan's Lake and the West Highlands.
SC&P Principal Ilan Salzberg hopes SloHi Village, as the development is called, will build on a retail strip on the other side of 29th Avenue that already houses SloHi Bike Co., Dudleroy's Bagels, Hogshead Brewery and SloHi Coffee Co.
"My partner (John Cianci) helped revitalize the south side of the street and take it from a vacant office to a coffee shop, bike shop and a brewpub," Salzberg said. "It's been several years in the making, but now we're expanding on that."
SC&P, short for Salzberg, Cianci and Partners, will build about 10,000 square feet of retail space and 10,000 square feet of office space in a new two-story building at about 4445 W. 29th Ave. It's a half-acre site that Cianci bought in three separate deals between 2008 and 2014 for a total of about $1 million.
The building hasn't come out of the ground yet, but it's already about 60 percent leased, Salzberg said. And the development has set off a bit of a 29th Avenue real estate shuffle.
Highlands Montessori used to operate out of a building SC & P demolished. The Montessori temporarily moved across the street to 4424 W. 29th Ave., but will take 3,000 square feet in SloHi Village when it's finished.
SloHi Bike Co. also will move across the street from its current space at 4434 W. 29th Ave. Salzberg said the bike shop has leased a larger space at SloHi Village and neighboring SloHi Coffee Co. will expand into the current bike shop on the south side of 29th Ave.
SloHi Village also will welcome a new dentist's office, Scales' Pharmacy, Aspengrove Real Estate, and new restaurant and grocery concept Deli DeMaria when construction wraps up near the end of this year.
Salzberg said he's had discussions with a yoga studio, sushi shop, barber, daycare and a pediatrician to fill the remaining vacant space. Retail space is leasing for $28 per square foot and office space costs $26 a foot, Salzberg said.
His biggest selling point, Salzberg said, is the combination of foot traffic from the surrounding neighborhood and drive-by traffic on 29th Avenue.
"Traffic counts are terrific and the neighborhood is terrific. It's very walkable, it's bikable," Salzberg said. "We call it SloHi for a reason, because it offers that slow value system of walking and biking to small, local businesses and restaurants."
Chad Holtzinger at Shopworks Architecture designed SloHi Village. Cianci's own construction firm will be the general contractor. First State Bank of Colorado is providing the construction loan.
Salzberg and Cianci have been developing residential and commercial properties in West Denver for 15 years, Salzberg said. Both live in the neighborhood, with Cianci just across the street from SloHi Village and Salzberg six blocks away.
As other sections of the Highlands have taken off in recent years, Salzberg is betting the area around 29th Avenue is the next hip commercial corridor.
"32nd Avenue and Tennyson and LoHi are pretty well-established," he said. "So we feel like it's time for SloHi to continue that trajectory."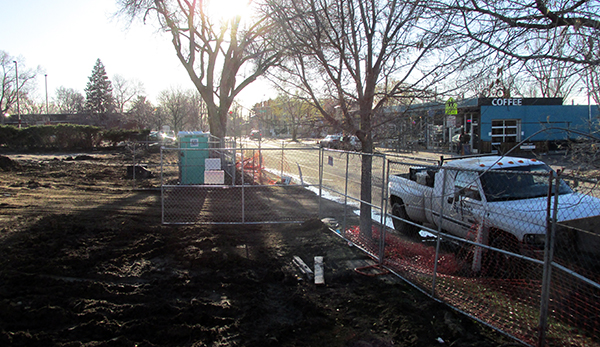 8244