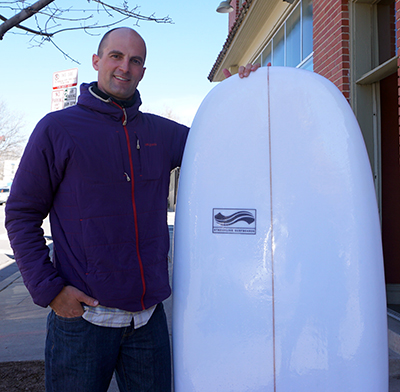 Ben Nielsen, an engineer who's building Sheridan's River Run surf park in the Platte River, thinks you should ride Colorado rivers on a Colorado-made surfboard.
The engineer, who learned to surf in college in California, is launching Streamline Surfboards in Denver this summer.
"I want people to enjoy surfing, and I think the best way to do that is to make sure you have proper equipment," he said. "It's not going to be fun if you're skiing on the wrong skis."
Nielsen has been building surfboards for the last year, and now he's taking his craft to market. He's sold one surfboard and has another on the way, he said. He custom builds for his clients, taking into account such factors as their height, weight and experience.
He's taking orders over the phone but also is setting up a website where his customers can buy boards. Each board costs around $600, he said.
Nielsen has invested $3,000 into the company, he said.
He builds all the boards using EPS foam, the same material as those cheap white coolers. He designs the shape of the boards on a computer using CAD software and then lets the computer-controlled knife cut the shape out of a big block of foam. Then he coats the foam in fiberglass for durability and resin to make it waterproof.
"A surfboard is like a hardboiled egg," he said. "The foam is inside and you laminate fiberglass over that, then you laminate that with resin in multiple layers."
River surfboards are built differently than their ocean-going cousins, Nielsen said. Because river boards need to stand up against the rocky bottoms of riverbeds, Nielsen needs to make the boards with twice as much fiberglass as their big-wave counterparts.
His biggest obstacle, Nielsen said, is sourcing surfboard materials. Because Denver doesn't have a surf industry, he'll have to buy supplies from East and West Coast vendors.
While there may not be much of a Colorado surf market right now, Nielsen believes the industry will crop up around parks such as River Run. His target clientele are Denverites with an interest in the outdoors, and he sees potential crossover with kayakers.
"This is an amenity that makes markets," he said. "Those markets can be renting equipment, building surfboards, anything related to the park."
He cites Chris Peterson, a Hawaiian surfer who relocated to Idaho and opened a surf shop near a river surfing park that he built in Boise, as an example.
"I can't think of a better place in the country than Denver to have surfing. We're such gearheads here," he said.