Brad Appel and Chandler Smith have a plan to gear up their fledgling Primal Colorado Bike Expo this year.
They're retooling the May 13-14 expo to cater to a different crowd by relocating from the Colorado Convention Center to Mile High Stadium. In addition, they've tied in with the Colfax Marathon, which drew 30,000 people to its 2015 runners' expo held in the stadium's club suites. This year's marathon events will be held May 14-15.
"We changed things this year to make it a bike expo for consumers, something similar to the Ski and Snowboard Expo," Appel said. "One of the takeaways from last year was that we saw people wanted to buy things. So we turned it into an outdoor retail show."
The Bike Expo will be held in the stadium's West Plaza and Parking Lot J. Appel and Smith are investing $75,000, which they hope to raise from sponsors and exhibitor fees. Admission is free to the expo, which is sponsored in part by Primal Wear, a Cherry Creek-based cycling jersey designer.
Appel and Smith founded the expo last year as a trade show for industry insiders, such as retailers and manufacturers. The single-day event drew 118 exhibitors and about 2,200 attendees, primarily from Colorado.
This year, they hope to attract even more exhibitors. They've signed 55 already, including local mountain bike builders Guerrilla Gravity,  and want to draw between five and eight times the number of 2015 attendees. Hence the tie-in with the Colfax Marathon.
Andrea Dowdy, a spokeswoman for the Colfax Marathon, said Appel and Smith approached her with the idea to piggyback off the marathon's expo.
"Lots of our runners are triathletes, so the fact that they can get their biking fix too is great," Dowdy said. "We wanted to make it about more than just the bib and shirt."
There were other reasons for relocating the expo as well, Appel said. Rent is lower at the stadium, plus holding the event outside gives it an atmosphere that was missing last year.
"We're a bike expo, so we wanted to be outside," Appel said. "This gives it more of a festival atmosphere. Inside the Convention Center is great and it's a huge space, but it's still indoors."
Appel met Smith about 1 1/2 years ago on a bike ride. They bonded over their work running bike-related nonprofits. Appel's group, Wish for Wheels, hooks up  kids from kindergarten through second grade with a bike and helmet to get them outside. Smith works as director of Ride the Rockies, a six-day, 400-mile bike race.
"We got started talking about bikes, one thing led to another, and we put this thing together last year pretty quickly," Appel said. "We decided to give it another go this year."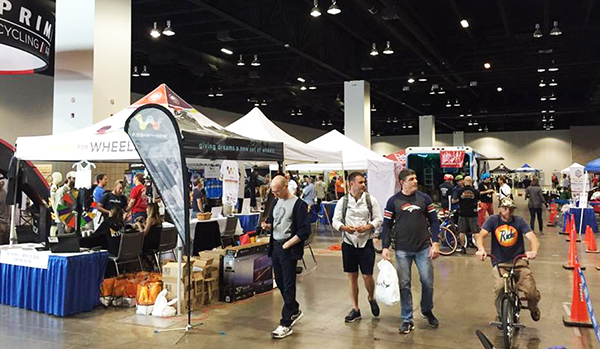 8077