After fermenting in RiNo for three years, Happy Leaf Kombucha is brewing up a new taproom in Sloan's Lake.
Company founders Jenni Lyons and Mike Burns leased a new spot because their Brighton Boulevard tearoom is being leveled to build Catalyst, a health care office campus in planning.
"We love RiNo, but I think the new space is more fitting," Lyons said. "Right now we're pretty much a destination spot because it's so hard to get around RiNo without a car. Sloan's Lake has more walkability and will give us better exposure."
The new spot, located at 5700 W. 25th Ave. in Edgewater, is just west of Sloan's Lake and a few blocks off of Sheridan Boulevard. They hope to open the taproom in late March or early April.
At 2,000 square feet, Happy Leaf's new taproom is one-third larger that its 1,500-square-foot RiNo digs. The new location includes an outdoor patio, parking lot and urban farm, where they will grow ingredients to cook with, Lyons said.
The extra space also enables Lyons and Burns to expand on Happy Leaf's food menu, which features items such as shared cheese plates, salads and sandwiches ranging in price from $4 to $15.
"We'll be doing more cultured foods, so things that are fermented and pickled," Lyons said.
Lyons and Burns also are applying for a liquor license at the new place, Lyons said, which will allow them to sell beer and liquor for the first time. Once the permit is approved, Happy Leaf will begin serving brunch, complete with kombucha-themed cocktails.
Kombucha is a fermented sweet tea that traces its murky origins to China in the third century B.C. Happy Leaf has five taps, featuring a rotating cast of flavored kombuchas, such as orange mint, cranberry lavender and strawberry.
The tea is served in 12-ounce glasses for $4, flights of multiple flavors for $7 or in growlers for $12 each.
Lyons and Burns used to brew kombucha in the taproom. In February, they opened a 3,400-square-foot fermenting facility in Arvada where they produce kombucha. It takes them about 30 days to brew a barrel, depending on the temperature outside.
Lyons has brewed kombucha at home for more than 10 years. She and Burns, a home brewer who does marketing in the craft beer industry, started selling kombucha at the Denver Handmade Homemade Market in early 2013. Demand for the drink was so high that they opened Happy Leaf's RiNo taproom that November, and began serving food there in 2014.
Happy Leaf's kombucha is available on tap locally at Tony's Market, Roostercat Coffee House and Black Shirt Brewery.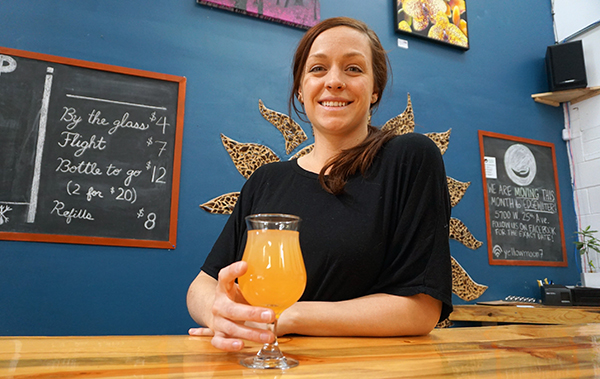 8053