It's time for a bigger base camp for a Denver company that rents out backpacking kits and tents for events such as weddings and music festivals.
Outdoors Geek founder Will Marquardt realized, as he approaches $1 million in revenue, that he needed to double his space.
"We had about 3,500 square feet over there and we were packed in like sardines," he said. "Our budget called for 165 new tents this year and we didn't have any room for them. When you're a growing business and you're already in a cramped space, that's a problem."
Marquardt can ship a box with everything a first-time backpacker needs, including tent, cook set, food and, of course, backpack.
Marquardt signed a five-year lease for $5,500 per month on a new, 7,500-square-foot warehouse at 4431 Glencoe St. in November, he said, which will be fully operational by March.
The new space replaces a location at 12455 E. 69th Ave.
Marquardt is using some of the extra space for storage and to set up a new showroom with backpacking equipment and a glamping (glamour camping) setup. The lease includes a 4,000-square-foot yard where Outdoors Geek will clean its equipment between rentals, Marquardt said.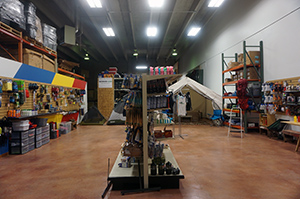 Marquardt invested $28,000 in the move, he said, including $7,000 in lighting and $3,000 on a forklift purchased from the building's previous owners, ProGreen, a Georgia-based artificial turf company.

Nearby interstate access also made the space attractive, Marquardt said.

"We cater to a lot of people who fly into town so we had to be along I-70," Marquardt said. "We're also five miles closer to the center of town than our last place."

Marquardt will post a 5-by-10-foot sign, facing the interstate, to advertise his company.

Marquardt expects the company to reach $1 million in revenue for the first time in 2016. Its glamping business has fueled Outdoor Geek's growth. For example, Marquardt has booked a 700-tent event in upstate New York, and will hit new music festivals this year as well.

He'll also expand his rental options to include expensive gear such as paddleboards, avalanche gear and bikepacking setups (think mountain biking backpacking trips).

"It's all expensive, high-end gear that people don't want to buy themselves," he said. "People aren't looking to put stuff in their garage; they want the experience."

Marquardt, who founded Outdoors Geek in his basement in 2010 with $13,000, said the next step is to set up camp on the East Coast, likely in spring 2017 in Virginia or Maryland near the Appalachian Trail.

"So much of our business for glamour camping is out east and it probably costs us $200 in shipping to deliver each tent," he said. "Think about if we can slash those costs and split that between our consumers and the company – that'll make us much more competitive."

7646