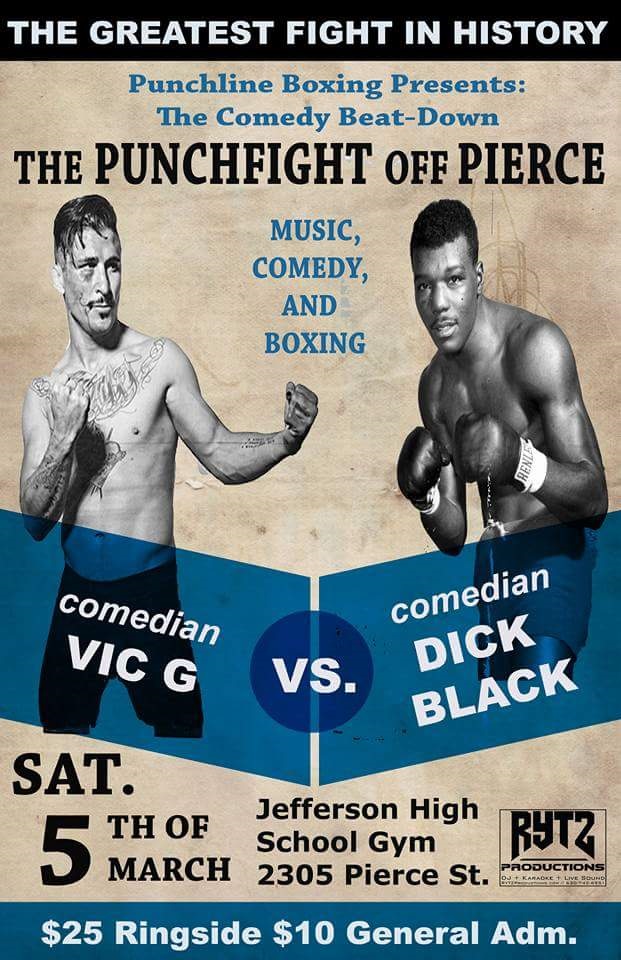 Dick Black thinks his first business idea is a knockout.
The comedian and amateur boxer, 39, wants to hit the metro area's funny bone with Punchline Comedy Boxing, a concept that pits standup comedians against one another in three-round boxing bouts.
"Comedy is at its all-time high right now in terms of popularity and people are coming from all over the country to Denver," Black said. "Boxing, if you do it right, can pique people's interest."
The first Punchline fight will take place on March 5 at Lakewood's Jefferson High School. There will be a series of opening bouts to engage the crowd before Black fights and then performs a standup comedy set in the night's main event.
Ringside tickets to the event will cost $25 and general admission tickets are $10.
Black, who currently weighs in at 6 feet 2 inches and 170 pounds, will fight fellow boxer and comedian Vic G, 5 feet 9 inches and 155 pounds, in the main event.
Black and G will duke it out for three two-minute rounds, with the winner being decided by knockout or decision.
"It's only gonna go one round, though," Black boasted. "I'm not worried about this guy."
The event has been sanctioned by USA Boxing, a division of the United States Olympic Committee that sanctions all U.S. amateur boxing matches, according to USA Boxing spokeswoman Julie Goldsticker.
Black is putting $3,000 into financing Punchline.
Part of that funding went toward renting out Jefferson High's gym for the fight, which cost $400, he said. The rest will go toward marketing and paying workers and performers.
He hopes to turn Punchline into a bi-weekly event, he said. He's in negotiations to hold the event at Tennyson Street's Oriental Theater, which currently hosts Lucha Libre & Laughs wrestling-and-comedy mashup events. Black said he's tentatively scheduled the next Punchline fight for June 12.
The market is currently hungry for boxing, he said, after Floyd Mayweather's retirement last year left the sport without a figurehead.
"(Mike) Tyson and those guys kind of fell by the wayside and retired, and the sport took a dive," he said. "I'm trying to get people's minds back on boxing instead of the UFC, and I figured this is the way to breathe life back into a faded sport."
Black currently performs standup full-time at Denver venues like Voodoo Comedy Playhouse and Denver Improv Comedy Club in Stapleton, he said, and he opened for Dave Chappelle at the Comedy Works in 2007.