Denver, Boulder, Fort Collins and now San Francisco.
Topo Designs – The Denver-based outdoors brand known for its backpacks, messenger bags and retro apparel – is opening a shop in San Francisco. It's the company's first store outside of Colorado and its third to open this year after outposts in Boulder and Fort Collins.
"We have investors (in San Francisco)," said Becky Day, Topo's marketing manager. "We're testing there and seeing how well it goes. It's like Denver – it's got a little bit of that mountain culture but also recognizes the fact that everyone works in the city during the day."
The shop will have its soft launch Friday, with its grand opening scheduled for Saturday, Day said. Topo is renting a 950-square-foot shop at 645 Divisadero St. reminiscent of Topo's RiNo home base, Day said.
The shop will be the fourth Topo store since it opened its RiNo flagship in 2013. Shops in Fort Collins and Boulder opened in April and September, respectively.
"We've put a lot of stock, energy and trust into our brick-and-mortar stores in 2015," Day said. "We need to have places to show our products and get them out there to succeed."
Topo is currently hiring employees to staff the San Francisco shop, Day said, and it relocated one of its Denver store managers, Caroline Peixoto, to help run the new shop.
"We took 2015 to expand the store presence, and in 2016 we're going to focus on growing and reaching new audiences, but not necessarily expanding within the retail setting," Day said. "But with that being said, if the perfect space comes up, we might not be able to turn it down."
Co-founders Mark Hansen, 43, and Jedd Rose, 37, launched Topo in 2008 and sold backpacks and bags online until opening the company's RiNo store in 2013. The company expanded into clothing and outerwear in 2014. Bags comprise about 60 percent of sales, the company said.
The company also makes limited runs of co-branded products for each season. This winter, Topo teamed up with Giro to produce a line of ski and snowboard helmets and goggles. Topo designed the colors while Giro manufactured the products.
Hansen and Rose originally made each bag by hand but have since outsourced manufacturing to a Colorado factory.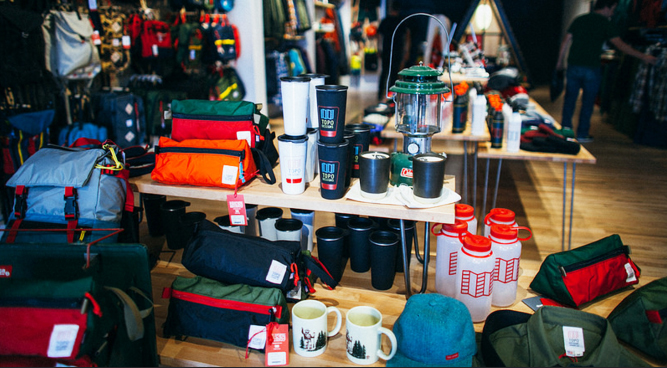 6400