A Denver fast-casual concept is modernizing its name and logo as it plans to open a dozen new stores.
Modmarket is changing its name after settling its lawsuit against Seattle-based Mod Super Fast Pizza LLC, filed in March in U.S. District Court for Colorado.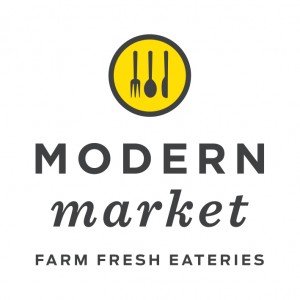 "We were involved in a trademark dispute, and as part of the settlement we're going to modify our name to Modern Market" company co-founder Anthony Pigliacampo said. "At the end of the day, we felt like there was too much overlap over the trademarks. We pursued a settlement that gave us a little more breathing room between our brands so we can keep moving."
Pigliacampo said the change in branding won't affect Modern Market's menu, pricing or business model.
Signs and other marketing material will change over the coming months, and the company will be fully rebranded by February, Pigliacampo said. A new logo has already been designed.
According to the lawsuit filed by Modmarket on March 31, Mod Pizza threatened that "if Modmarket did not accept MOD Pizza's proposal to limit Modmarket's continued use of the MODMARKET mark, MOD Pizza would initiate litigation alleging infringement of MOD Pizza's trademark rights."
Modmarket first claimed that the two names were different enough, because Mod Pizza identified the type of food it serves.
Founded in Seattle in 2008, Mod Super Fast Pizza operates more than 80 stores nationwide, according to the company's website.
Modern Market's name change comes in the midst of a push to nearly double the chain's size to 25 stores by the end of 2016. The restaurant's 15th location – and first to open under the Modern Market moniker – is scheduled to open in downtown Littleton this year, along with stores in Colorado Springs after the holidays and Broomfield during next year's first quarter.
Stores in Austin, Dallas and Washington, D.C., are also in the works and will open in 2016, Pigliacampo said, in a campaign to open 12 stores in as many months.
"It really just came down to the fact that we were both expanding really rapidly," Pigliacampo said.
Pigliacampo, 35, founded Modmarket in Boulder in 2009. Its menu includes soups, salads and sandwiches made to order and priced around $10. It touts itself as a healthy alternative to other fast-casual restaurants.
The company, which raised $6.6 million in 2014, opened four locations in Colorado and Texas earlier this year.