When Nick Pollard spent the summer pedaling drinking revelers around in a 16-seat bike, the entrepreneurial gears in his head started turning.
A former mortgage broker with 10 years of corporate experience, Pollard left his office job to start his own pedal-powered bar crawl brand dubbed Bike Bar Denver.
"I've always wanted to start my own business and find my own way of doing something I'm passionate about," Pollard said. "It's not really about cycling for me; it's about driving people around and having fun with them. It's like one big rolling party."
Pollard purchased his first 16-seat booze tour bike Oct. 5 for $25,000 from a seller in Huntington Beach, California. He and his friend and employee Chris Villiere spent days repairing the vehicle, he said, fixing gears, replacing the canopy and installing a stereo. He spun his first tour around Denver on Oct. 9.
Pollard plans to buy three more of the vehicles to have a fleet of four cruising through town by next summer.
Pollard charges $320 to rent out the bike for a Saturday or Sunday and $280 for weekdays. He picks up riders outside of Mile High Spirits and leads them on a two-hour bar crawl through LoDo and RiNo before dropping them off back at the distillery. The itinerary changes from tour to tour, but most stops last about 20 minutes and popular bars include Zanzibar and The Retro Room.
The ticket does not cover any drinks, and the Bike Bar doesn't sell any alcohol itself.
Pollard said he has run about 15 tours so far and expects to hit between 15 and 20 per week.
He also offers single seats for $35 each. Since it can be tough to find 16 people who all want to drink and pedal for two hours, he accepts bookings for smaller groups.
"A lot of these companies only do private bookings for full groups," Pollard said. "I saw a hole in the market there and thought that I should start selling single seats to fill it."
Although Pollard's business is seasonal, he still pedals from March through December.
"Once it gets too cold, we'll have to stop, but that won't happen until January," he said. "I'll probably take January and February and won't do any tours during that time. Then we'll start back up in March with two bikes."
Pollard and Villiere are the only two employees and split time in the driver's seat.
Pollard, 35, is originally from California and moved to Denver in 1998. He hadn't been a cyclist in the past, but became enamored with the pastime after driving a bike bar this summer. It's his first crack at running his own business.
Bike Bar Denver will be pedaling into a business that is already rolling around Denver. Pedal Hopper launched in 2011 and advertises loops around Uptown, LoDo and South Broadway on its website. Denver Patio Ride runs 16-person tours leaving from downtown's Blake Street Tavern.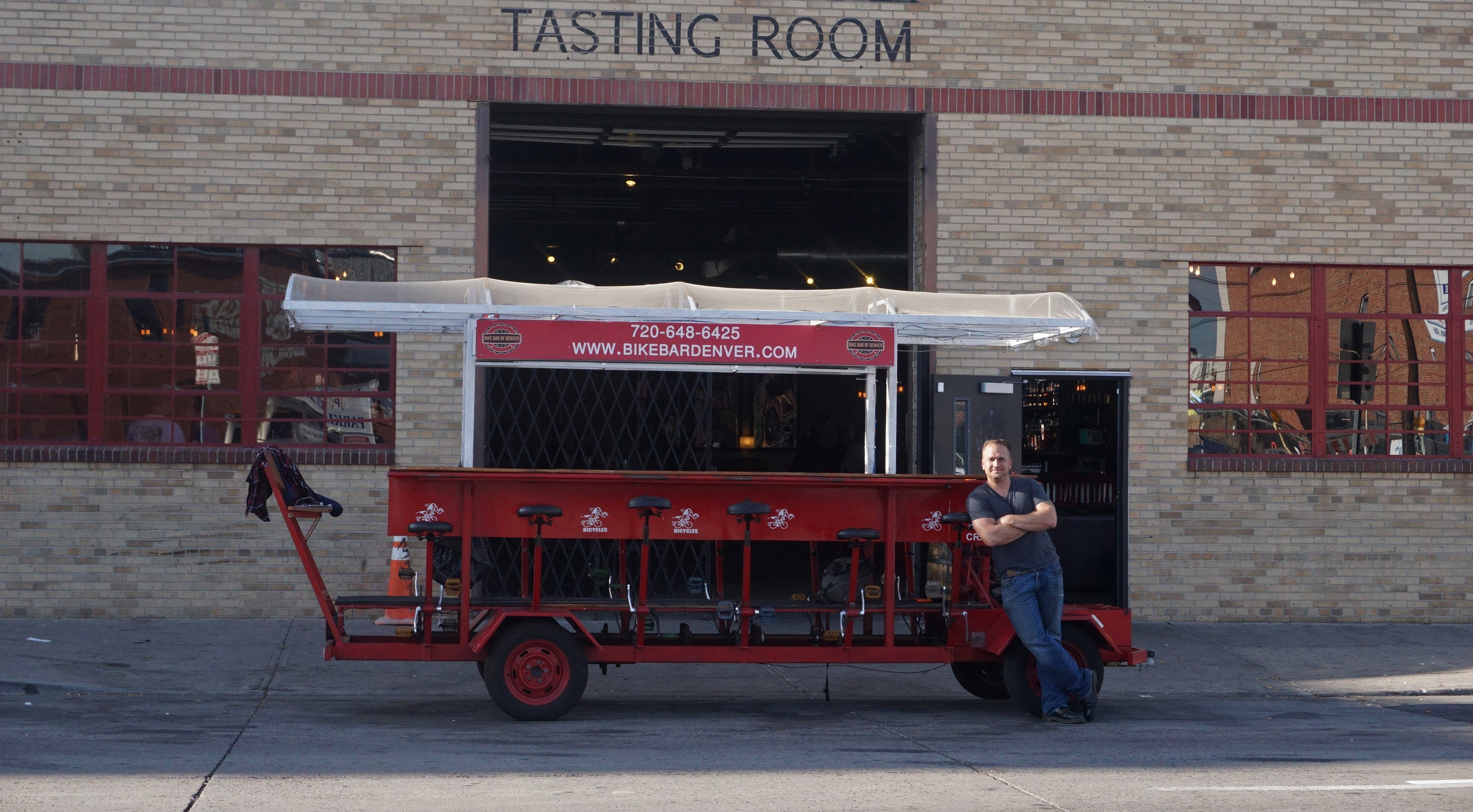 5260