One of Denver's largest cannabis manufacturers is trying to bring a few new products to market, including a remedy for anxious dogs.
Dixie Brands, the parent company of Dixie Elixirs cannabis-infused drinks, said it plans to launch two new items in November.
Aceso and Therabis are made from a concentrate of industrial hemp, a breed of the cannabis plant that contains negligible quantities of tetrahydrocannabinol (THC), the mind-altering ingredient in pot.
Dixie will market the products like dietary supplements. Aceso, named for the Greek goddess of the healing process, is designed to help users combat daily maladies like aches, pains and sleep disorders.
Therabis? That's for your Fido.
"The pet supplements are a $3.2 billion industry every year," Dixie Brands founder Tripp Keber said. "In some cases, animals are treated better than people – there's no limit as to what some people would spend as benefits for their companions. It's a relatively untapped sector for cannabis companies."
Dixie contracted with New York veterinarian Stephen Katz to help design Therabis. The company is currently testing Katz's formula in a laboratory at the University of Pennsylvania, which will conclude this fall, the company said.
Therabis comes in five- or 30-day packets, with daily doses based on a dog's size. Fellow Denver cannabis company Mary's Medicinals released its own cannabis extract for animals earlier this year.
Aceso, which Dixie designed for people, will come as a powdered extract to mix with food. It'll be released in three varieties – "Calm" for anxiety, "Wellness" for everyday use and "Soothe" for aches and pains. A fourth variant, "Sleep," will be released later.
"It's really designed to be a product that helps when people get off track on their day-to-day," Keber said of Aceso and its varieties. "Say a little anxiety knocks you off your game or you didn't get a great night's sleep. These are designed to keep you as a best version of yourself."
Both Therabis and Acesco will be available exclusively online when they're released. Because the products don't contain THC, it's illegal to sell them in any of Denver's pot shops, recreational or medical.
Keber founded Dixie Elixirs in 2010.
After releasing Therabis and Aceso, Dixie is going to turn its attention to another unusual application for cannabis – helping in the bedroom.
"There are tons of ways we can use cannabis other than to get high," Keber said. "Aphrodisiacs are just one way to do that."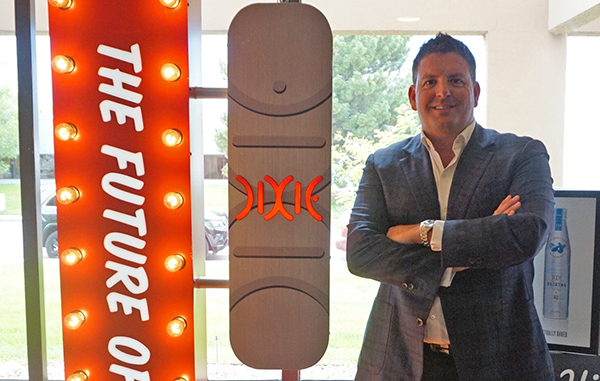 4385