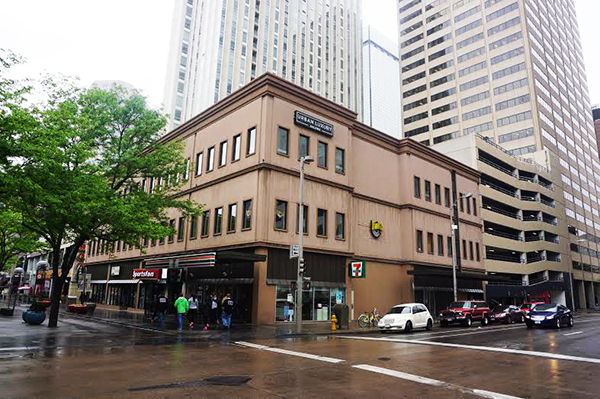 The buzzing Denver co-working scene is getting bigger still.
The Hive on 16th is scheduled to open in June at 403 16th St. It's a co-working business that photographer Jessie Matteson created while looking to move out of her home office.
"I'm sick of working at my house, honestly," she said. "We were looking for office and studio space, and couldn't find anything that would work."
Matteson is co-founding The Hive with husband Bryce Matteson. The Mattesons moved to Denver from Indiana last year and have been planning the co-working business for about two months.
In late February, Matteson said, a friend told her about office space that would become available at 403 16th St., right at the corner of Tremont and the 16th Street Mall. Shortly thereafter, Jessie and Bryce took a planned vacation to Mexico, where they wrote a business plan.
They stewed on the idea for a couple more weeks and signed a lease on the 2,500-square-foot space about two weeks ago. Rent runs $6,000 a month, and Jessie Matteson said she and her husband will invest about $100,000, raised from investors, to get The Hive up and humming.
The Mattesons plan to make back that money by selling part-time memberships that offer seven days of co-working per month at $95; unlimited, Monday-through-Friday shared desk space for $225 a month; and dedicated desks for seven days a week at $395 a month.
The Hive won't lack for competition in the Denver shared office business. New concepts Ignitrr and Enterprise are in the works and Thrive Workplace, Galvanize and Shift Workspaces are all adding new locations. Modworks, just blocks from The Hive, and Laundry on Lawrence are expanding.
Matteson acknowledged the high amount of co-working competition, but said there's also plenty of demand for the space. She also hopes to carve out a niche for The Hive by tailoring it towards photographers and the wedding industry.
"I think we're kind of setting ourselves apart by offering a natural-light photography studio," she said. "We want to create a place where everyone can work together – graphic designers can work with photographers and web designers."
Don Brinkmann of B-jamin studio is the architect designing the Hive. The Mattesons have yet to hire a general contractor.
Matteson said The Hive can hold about 40 members and will have 24 dedicated desks. About a third of those desks are spoken for. Members include a wedding planner and copywriters, Matteson said.
She's pleased with the leasing progress so far. A month away from opening, Matteson said they've yet to launch much of a marketing campaign. And in the two weeks since leasing space, Matteson has been too busy to get the word out on her own.
"Most of our friends don't know we're doing this because we haven't had any time to talk to them," Matteson said. "But we haven't had time to sit down and second-guess our decisions, which I think has helped a lot."