Eduard Miller and Evan Orman said their new home strikes the perfect note.
The local violin maker and local bowmaker, who initially teamed up two years ago, moved their company Denver Violins late last year into downtown's Daniels & Fisher Tower, commonly known as the clocktower.
Orman has been crafting bows for stringed instruments in Denver since 2001, and Miller was hand-making violins under his own name in Denver since 2014. They combined to launch Denver Violins in 2020, selling their own creations and those made by others.
For a time, they tried working out of Miller's home.
"Our neighbors weren't super happy because we had a surprising amount of people come over to the house to look at instruments, even though we didn't have that many," Miller said. "I had my workshop set up there, and we thought maybe this is the way of the future. But people always want to try violins, so we didn't need to add any noise complaints on top of that."
The setup also felt strange because, in addition to their own work, the pair sell high-end vintage instruments made by others — some worth more than a million dollars, they said.
"We realized that if somebody is going to spend money on that kind of thing, it feels a little funny to invite them into our living room," Miller said. "If it's one of my violins, it makes sense. But if they're investing a lot of money, we decided we need a spot that shows how professional we are."
So the pair started looking for a brick-and-mortar space. And they brought on Miller's wife Mackenzie, who works full-time as an analytics manager for Ibotta and plays violin for bands around town on the side, as a partner to help with the business side of things.
The trio ultimately settled on the clocktower's 1,200-square-foot 16th floor. Broker Patrick Rowe of Fort Collins-based Hub Real Estate represented the company, and Kentwood Commercial agents Karen Landers and David Morrison represented the landlord Erwin Pfeifer, who purchased the 16th floor for $520,000 in 2019, according to property records.
The 21-story clocktower's floors are individually owned, and mostly used as office space. In recent years, however, the top five floors, which are owned by My Brother's Bar owner Danny Newman, have been primarily rented out for weddings and other events.
Denver Violins was originally looking for a retail space, but realized the clocktower made sense.
"We wanted natural light for the making, but most retail stores have a shotgun approach with one patch of light in the front," Mackenzie Miller said. "We also recognized we didn't necessarily need foot traffic. A lot of our customers usually book an appointment or they were already familiar with the work and had come to our house before."
The clocktower does pose one challenge for Orman — but it's manageable.
"I've always had a weird phobia of tall structures, which is ironic, and I'm fine now," he said. "But on windy days this place moves a lot, which is disconcerting."
Orman, a 56-year-old Loveland native, had been playing the cello since he was 10 years old, and became enamored with the idea that a good bow is needed to make good music. He attended bow-making workshops at Oberlin College for 20 years.
Miller, a 40-year-old Fort Collins native, studied music at the University of Northern Colorado and went to the Violin Making School of America in Utah. They became friends through the local music scene, which led to the business partnership.
Denver Violins offers repairs and takes a 25 percent commission when it sells instruments and bows made by others. It also sells vintage instruments the pair find at places like estate sales.
"The value of these things is a whole world in itself," Miller said. "A lot of it is based on history and demand, and you have to have documentation of its value; it's like art dealing."
Orman said their clientele somewhat shifted during COVID.
"COVID was interesting," he said. "A lot of people that played instruments when they were younger, when they were stuck at home, decided they want to play again. But professional musicians suffered during the pandemic, and that part of our business dropped off dramatically."
Ed Dusinberre, first violinist of the Boulder-based Takács Quartet, has bought both Orman's bows and Miller's violins.
"They are both sensitive to the different needs that string players have," Dusinberre said. "The individual idiosyncrasies and preferences for the way a bow feels in the hand or violin sounds under the ear. They can tailor their work to each individual."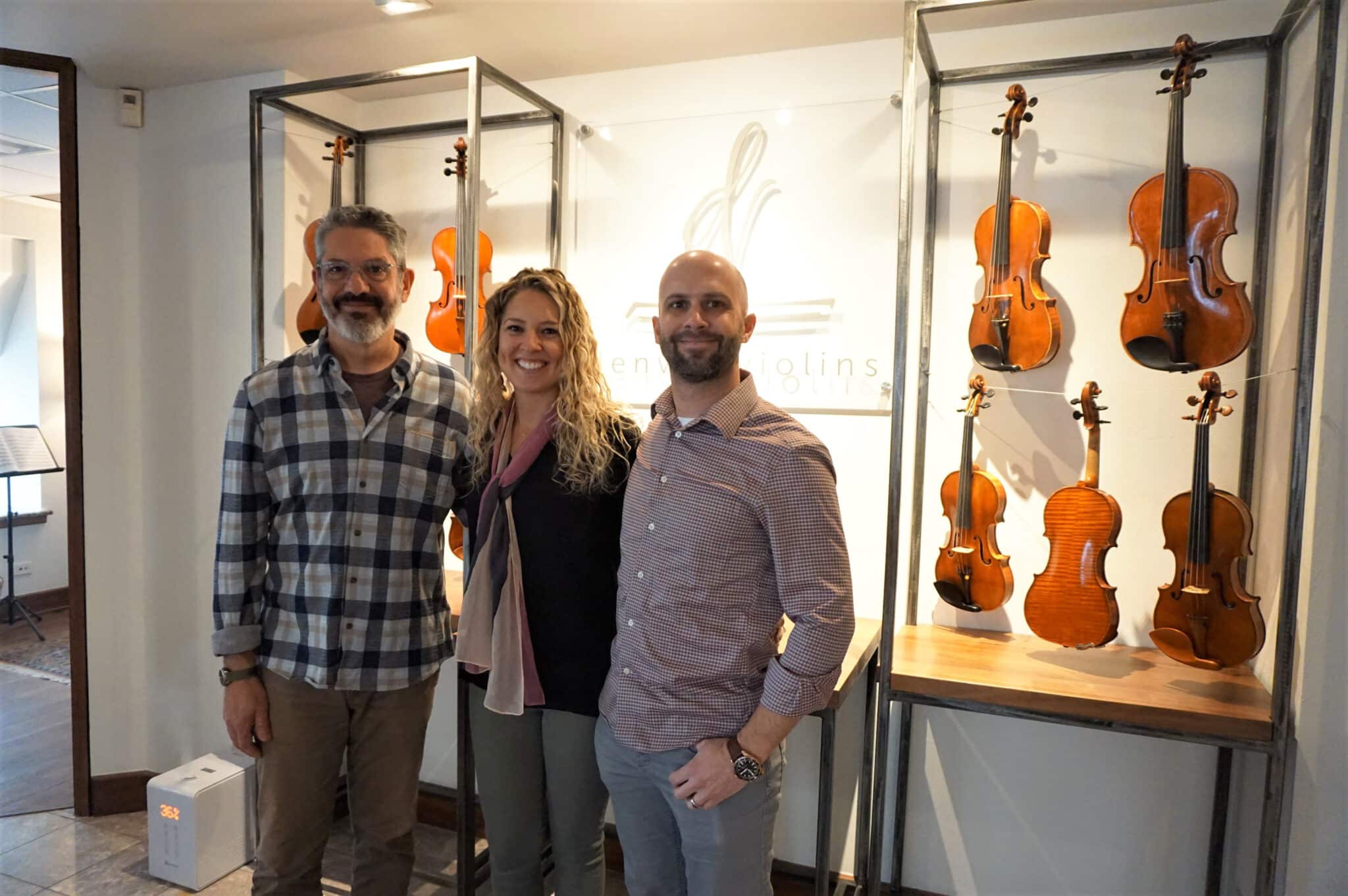 108950