When flights were canceled due to COVID last year, the open road was a sweet escape and glamping became popular among those looking for the comfort of an all-inclusive resort experience.
Denver-based Collective Retreats saw a 10 percent increase in bookings when the pandemic hit last year, and it's seen a 90 percent increase in bookings in the first six months of 2021 compared to last year, according to founder and CEO Peter Mack.
In anticipation of more busy summers to come, the glamping startup raised $23 million this month to expand its retreat offerings.
"We've been seeing a steady increase in demand over the past seven years. But during the last year and a half people really reevaluated what they want, and we were introduced to a whole new segment of customers," Mack said.
He added, "The world was sort of closing in on us. Technology has become so invasive and pervasive in our lives. I think a lot of people didn't realize how disconnected they had become from nature, and the pandemic woke a lot of people up."
The startup has raised $43 million to date, according to Mack.
Collective Retreats, which Mack founded in 2015, offers luxury lodging in five locations, including Vail, Yellowstone, Governors Island in New York and a ranch in Wimberley, Texas. Each offers safari tents or outlook shelters with a king bed, gourmet chefs and spa services.
Nearly all of the locations are sold out for the summer season, Mack said. Occupancy at the Texas retreat has doubled, and Governors Island and Vail are completely booked throughout the month of July.
With this fresh funding, Collective Retreats acquired new properties varying from 45 to 100 acres in Aspen, the Green Mountains of Vermont and Sonoma County, California. It plans to open those retreats in 2022.
The startup is also on track to open 25 new retreats over the next four years and has its sights set on several locations in Colorado, as well as throughout the Rocky Mountains, New Mexico, Utah, the Pacific Northwest and Canada, Mack said.
He added that international expansion is also under consideration.
"We have been working for some time now on significant growth and expansion plans, and this is a really rapid pace for us," Mack said. "Frankly, we really just want to keep up with the industry. Market specialists are saying the multi-million dollar global glamping industry will only continue to grow in the next few years."
Collective Retreats will also use the new capital to offer a new modular unit with a tent attached, "like a combination of our summit tents and outlook shelters," Mack said. The unit will be "good for seasonal locations" with installation, heating and air conditioning.
The $23 million funding round was led by New York-based Fireside Investments and outdoor marketplace Outdoorsy with participation from existing investors, including Washington D.C.-based Revolution Ventures' Rise of the Rest Seed Fund.
Outdoorsy, which is based in Austin, Texas, rents campervans and RVs to travelers around the U.S. Following the online marketplace's investment, Collective Retreats and Outdoorsy are getting ready to launch a partnership that allows Outdoorsy customers to park their vehicles at any of the retreats starting in the fall.
"Significantly more Collective Retreats guests are showing up in converted vehicles, RVs or campervans, and at the same time Outdoorsy has seen a big gap in places to go if you have one of these vehicles," Mack said. "People are really disappointed in the current state of RV parks. So we're providing them a high-end place to stay with all the benefits of a resort, like a hot tub next to your vehicle, room service, morning yoga and other wellness activities."
Outdoorsy customers will still have to pay for the benefits of the resort, but Mack said they plan to offer discounts and package deals.
Collective Retreats, which Mack founded after working for Marriott for 10 years, has on-premise offices in each retreat location and is headquartered on the third floor of  Denver's Dairy Block at 1800 Wazee St. downtown. The startup has a staff of a little over 80 with plans to add at least 50 employees in the next year.
The U.S. glamping market is expected to grow by 16.7 percent from 2021 to 2028 and reach a global valuation of $5.41 billion, according to a market report by San Francisco-based Grandview Research. In 2020, cabins and pods dominated the accommodation market with a 45.7 percent share.
Other glamping startups in the area include Denver-based Under Canvas, which has safari tent sites in nine U.S. locations, such as Lake Powell, Moab, Zion National Park and the Grand Canyon, as well as Glamping Hub, an online Airbnb-like startup where property owners can list cabins, treehouses, safari tents or other unusual rental housing for guests to book.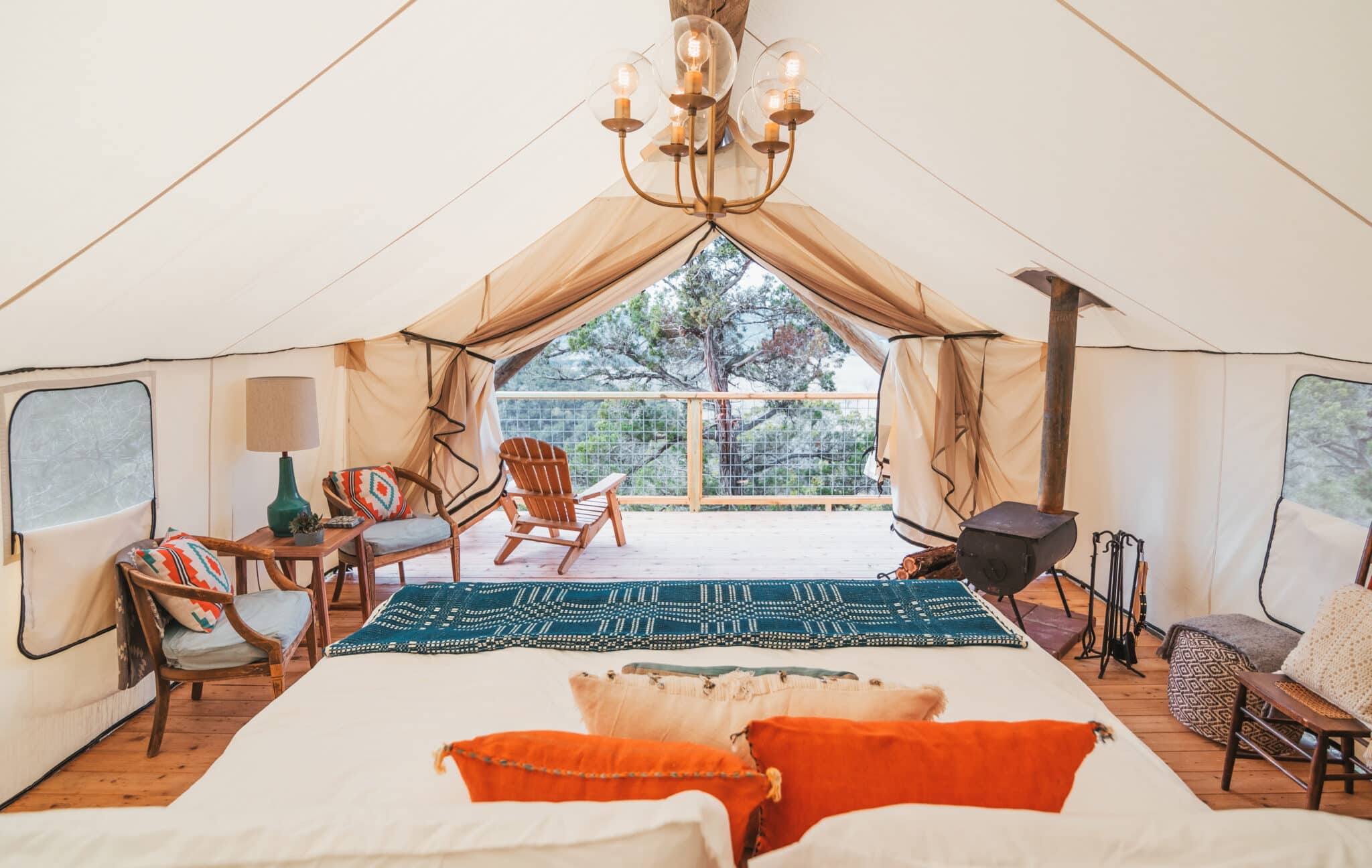 105345