The former owner of three downtown bars and nightclubs has found a partner in crime to help operate his new RiNo concept.
Paul Piciocchi opened Tryst Lounge, The Drink and LaMark 15 along 15th Street in 2004, 2009 and 2015, respectively, and sold them all three years ago.
Now, he's brought on Patrick Carter, the former general manager and part-owner of The Drink, as well as LaMark 15 nightclub. Together, they're opening a new bar concept called Partners in Crime in 1,400 square feet at 3246 Larimer St.
"We were originally just going to reopen The Drink because it was one of the most popular bars in Denver. But the brand, which you know included bottle service and rap music, didn't really fit into the neighborhood," Carter said. "So we sought out a designer to help us go a different route."
Carter and Piciocchi hired Davis Partnership Architects, who also designed Gaslamp and Roosevelt cocktail bars downtown, to help pick the theme and design the space.
Partners in Crime, which they hope to open on July 7, will feature murals of famous partners in crime from movies by graffiti artist Patrick Kane, who is known for his French and English bulldog art around town. One wall will highlight Thelma and Louise and another will be covered by Vincent Vega and Jules Winnfield from "Pulp Fiction."
There will also be a large electric blue neon "Ride or Die" sign with two swinging chairs in front for photos.
"Everyone has a partner in crime, or a friend they like to get in trouble with, and we're just giving them another fun option," Carter said.
The bar will be open seven days a week, from 4 p.m. to midnight on Monday and Tuesday and until 2 a.m. the rest of the week. Drinks, which will be named after criminal duos, will include the establishment's take on classic cocktails, such as a barrel-aged old fashioned or Casamigos margarita, as well as fun offerings like White Claw slushies. There will be a DJ on the weekends.
Carter said they plan to offer a menu with six pressed sandwiches, including a traditional peanut butter and jelly on brioche bread — "like a warm Uncrustable" — along with the "Elvis" with Nutella and banana, and "fluffernutters" with peanut butter and marshmallow creme. He was inspired by a restaurant in L.A. called PBJ.LA with similar snack items.
"The identity is definitely not going to be food, it's more of a snack for happy hour," he said. "Our main goal is to have a quality happy hour to attract all the people in the area who are moving into the new apartment buildings around here. There are 240 units across the street, which to me means 240 regulars."
Carter, who owns 20 percent of the business, and Piciocchi, who owns 80 percent, signed an eight-year lease for the former office space in 2019 before the pandemic put their plans on pause. The duo was also going to open another bar in Cherry Creek called the Tipsy Giraffe but decided to save their energy for Partners in Crime.
Piciocchi is also the co-founder of Geek Fuel, a monthly subscription box service packed with collectible comic books and action figures, which is headquartered in Industry's RiNo Station.
"He saw how the area was exploding, and so did I. I mean the bars were packed with lines outside every night before the pandemic," Carter said. "So, we knew this was the hottest place to be right now."
Once they've got Partners and Crime up and running, the duo hope to build the brand with more bars and continue what Piciocchi started in Denver with Tryst Lounge 17 years ago.
"I started working in Denver's bar industry as a door guy when I was 19 years old, and this has been my dream to open my own place ever since," Carter, 35, said. "Paul's owned 10 to 15 different bars over the years. I hope to do the same and learn from him, so one day I can sit back and enjoy the investment."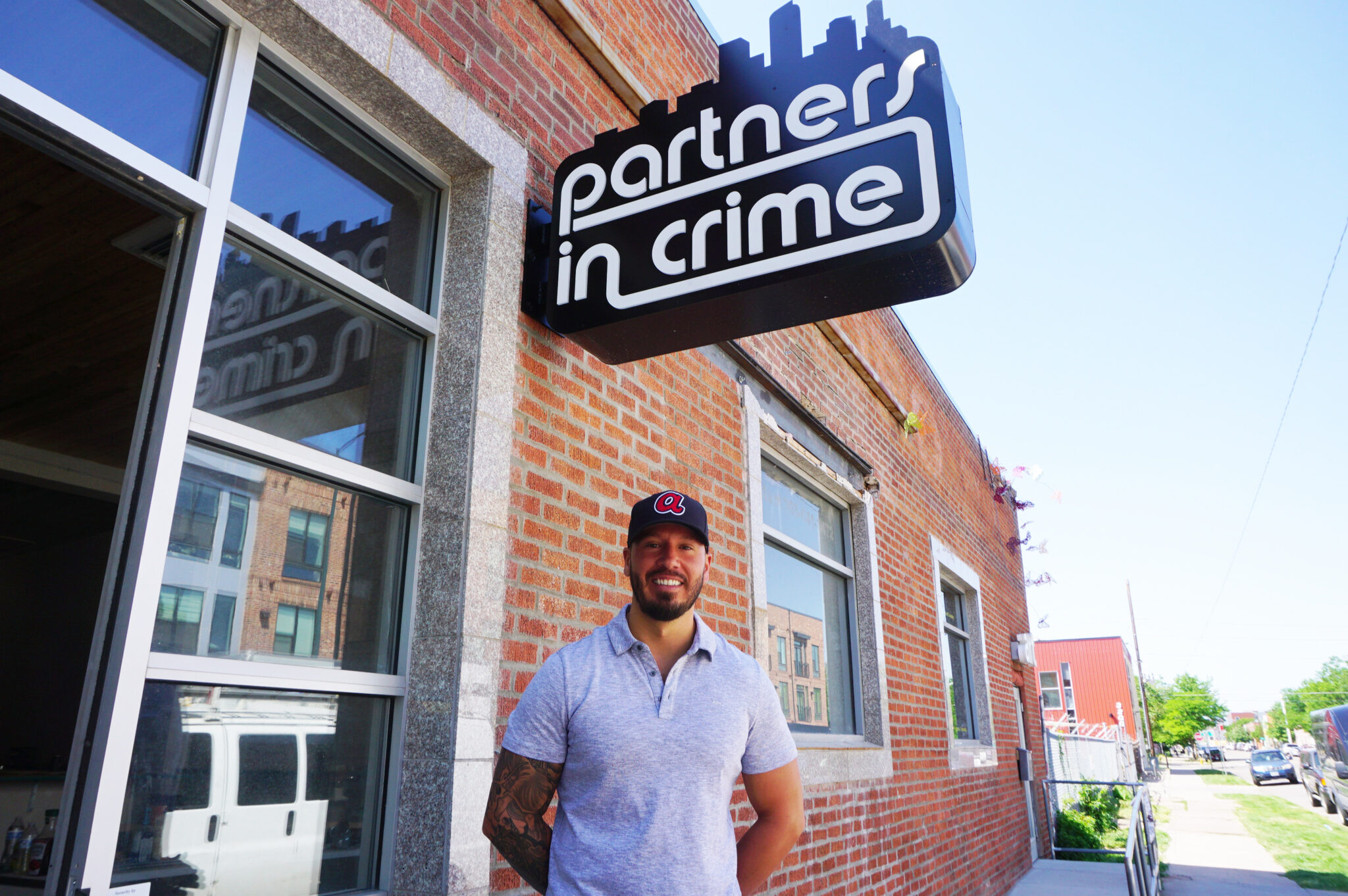 105035