Pending mayoral approval, Denver will require residential landlords to get a license from the city for each of their rental properties.
The Denver City Council voted unanimously Monday to pass the measure introduced by President Stacie Gilmore, which also requires that the rental properties pass a third-party inspection.
The license would be good for four years and landlords would have to pay for the inspections. The measure also mandates that written lease agreements be provided to renters.
It still needs to be signed into law by Mayor Michael Hancock, but that is expected. He "is not opposed to the proposal," a spokeswoman for the mayor's office told BusinessDen.
The license application will cost between $50 and $500 per parcel, depending on the number of units on the parcel. A single-family dwelling would pay $50, and multifamily complexes of more than 250 units would hit the cap of $500.
Gilmore has estimated the inspection will cost the average landlord about $150 per unit. Multi-family complexes will only be required to get inspections on 10 percent of their units.
The bill requires owners of multifamily complexes to get licenses by Jan. 1, 2023. Owners of single-family complexes would need to be licensed a year later, by Jan. 1, 2024.
Gilmore, who said her office has worked on this proposal for two years, looked to be holding back tears as the legislation passed.
"Denver has been in a housing crisis for decades," she said prior to the vote. "The pandemic has put even more uncertainty on our residents who rent. For the first time, we'll have a license that ensures our rental properties are safe."
The Colorado Apartment Association and Denver Metro Association of Realtors were among industry groups who had voiced opposition, but council members expressed more concern smaller landlords than those the groups represent.
Two amendments were heard and rejected Monday night prior to the bill's eventual passage. Both were proposed by Councilwoman Candi CdeBaca.
The first would have moved up the date by which landlords would need to acquire the license, to July 31, 2022. The second would have set the license fee at $50 per unit, meaning owners of the largest complexes would pay five figures every four years for their license.
CdeBaca said she felt the current fee structure gave "corporate landlords" a discount. Though some council members expressed comments of understanding, none voted for CdeBaca's amendments.
CdeBaca did end up voting in favor of the unamended bill's passage, however.
"I do fully and wholeheartedly support a registry," she said. "I think it's critical. I just want to be informed about the rulemaking process."
Correction: The property classifications that need to be licensed by 2023 and 2024, respectively, have been corrected.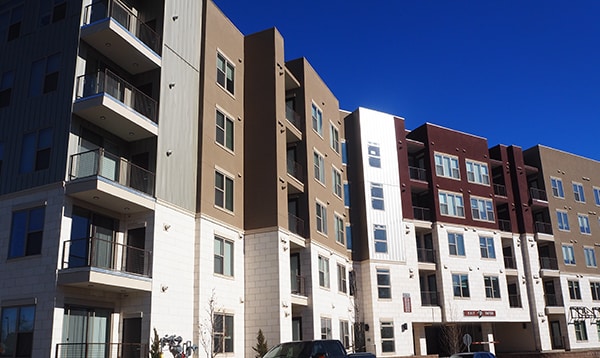 104205