Carvana's attempt to build a "car vending machine" in Denver keeps on rolling, even if decision makers seem a little unsure about the project.
The Arizona-based online retailer needs the property at 4700 E. Evans Ave., right off Interstate 25, to be rezoned in order to build the eight-story glass structure it has proposed.
Earlier this month, members of Denver's Planning Board questioned how to classify the building, which would temporarily house vehicles purchased online by customers. One member said the structure should be considered a billboard.
The second step toward a vote came Tuesday, when Carvana's rezoning request went before a City Council committee, where some members had a different focus: Is this the best use for a site by a light rail station?
The city generally encourages density around rail stations, with the thinking that it will reduce car usage. But most developers seeking extra height want to use it to build office space or apartments.
"I found it interesting that we give this credit for being within a quarter of a mile of a light rail station," said Councilman Paul Kashmann. "But the purpose of the development is to sell automobiles."
"If we're giving additional height, I can't imagine that's the intent of creating that exemption," he added. "I just find it ironic."
Carvana, which is publicly traded, has built similar structures in 24 markets around the country. The closest to Denver are in Kansas City and Tempe, Arizona.
Carvana customers in many areas can opt to have the car they buy online delivered directly to their home. Or they can opt to pick it up at one of the vending machines.
"We did make it exciting, and they drop a coin, because it was dubbed a car vending machine many years ago when we started in Atlanta," the company's senior director of real estate and development told the Planning Board. "And their car will be brought down to ground level. And from there they drive off."
The rail stop in this case is Colorado Station, located on the other side of the interstate from the property. There's already a car dealership immediately adjacent to the rail stop, but Freeway Ford is not a recent addition, and it doesn't store its vehicles in transparent towers.
Councilwoman Kendra Black represents the district where the rezoning is proposed. Speaking at the Tuesday meeting, she noted that the property's current owner — Denver-based Focus Property Group — originally wanted to build a self-storage facility at the site, and said she was not in favor of that use.
In 2018, the council voted unanimously to ban new storage facilities within a quarter-mile of rail stations. Focus' storage division Greenbox Self Storage later sued the city.
"I agree with you that car use is not ideal here," Black told Kashmann. "But that said, anything can change, right? For many years it was going to be a storage facility, and then it did not end up being a storage facility."
City staff previously told the Planning Board that they felt there was some value to having Carvana's tower near transit, because people could take the train to get their car, even if they would then drive away.
Black, who said she'd hoped the site could be home to affordable housing, did call Carvana's project "kind of cool looking." But Kashmann also noted that Carvana's proposed tower would likely be difficult to repurpose.
"I've sat in on a full presentation of this usage, and it's extremely unique," he said. "If this business model would prove not viable, my concern is we've got a building sitting there that I can't imagine what else you could use it for."
However, like the Planning Board, the council isn't supposed to consider the merits of a particular project that might be built on land if it is rezoned. Rather, it is supposed to solely consider whether it is appropriate that the land have the new requested zoning. Carvana's development proposal still needs city approval, but through a different process.
As a result, despite the skeptical comments, the committee forwarded Carvana's request for a vote by the full council. That vote is expected to take place March 8.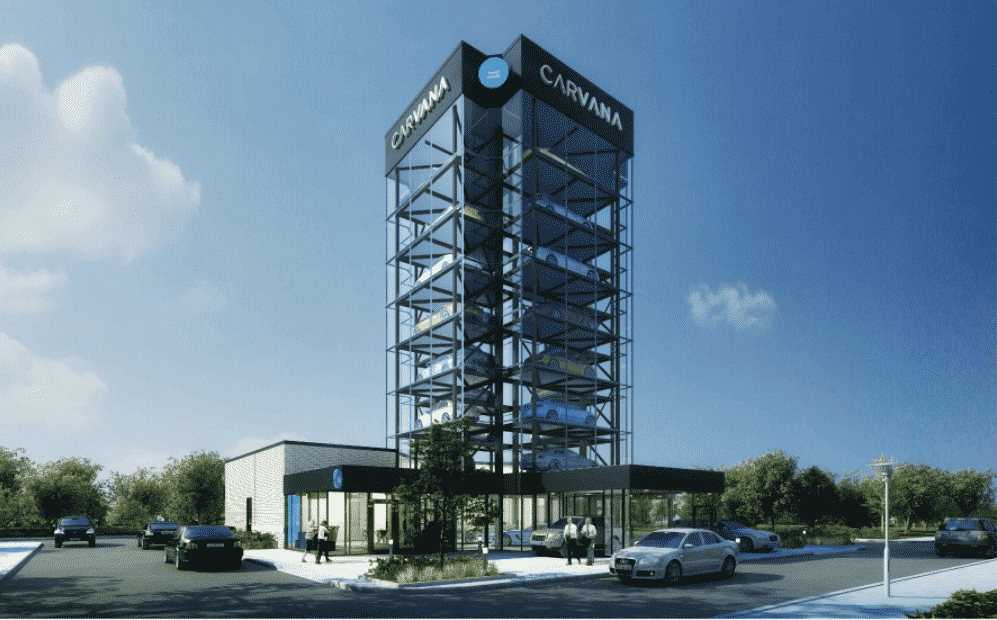 101326