Three Denver residents are making a push to save Denver7's building at Speer and Lincoln from the wrecking ball.
Bradley Cameron, Michael Henry and David Lynn Wise submitted a notice last week indicating they are considering asking the city to name the television station's brutalist building at 123 Speer Blvd. a city landmark.
That designation would effectively prevent demolition. It also goes against the station's wishes.
BusinessDen broke the news back in November that Denver7, also known as KMGH and The Denver Channel, was working to sell its real estate — a full city block, albeit irregularly shaped — to a buyer who would redevelop the site. The station itself would move and continue operating.
Denver7's building at the site was constructed for the station in 1969. According to a report by city staff, it consists of three parts: a five-story octagonal tower, a five-story stair/utility tower and a two-story studio that appears relatively nondescript from the outside.
The octagonal tower is the most well-known feature. The remainder of the property is used for parking and satellite dishes.
As part of the effort to sell, station General Manager Dean Littleton requested a certificate of demolition eligibility from the city. That certificate makes it easy to demolish a building within five years, and thus would be valuable to a buyer wanting to build something else on the site.
City staff reviewed the application and determined that Denver7's building had the potential for historic designation. In their decision, city staff cited its prominent location, its characteristics of the brutalist architectural style and the role that the station has played in Denver history.
"It's always been a building that has caught my eye. There's a real prominence to it," Cameron said, noting the building's distinct reddish hue comes from crushed rock.
The finding by city staff kicked off a window of several weeks during which Denver residents could express interest in potentially leading a push to designate the property a landmark — as the three did last week.
Henry, an attorney, retired in 2019 as executive director of Denver's Board of Ethics. Cameron is also a retired attorney, having previously worked for the Colorado attorney general's office, primarily in connection with natural resources. Wise is an architect.
Cameron said all three have been active in the preservation scene within the broader Capitol Hill area. Henry, in fact, also expressed an interest in landmarking a Cheesman Park apartment building in October, although that process ended quickly when the property owner withdrew its request for the demolition eligibility certificate.
Henry and Cameron, interviewed separately by BusinessDen on Monday, said the trio have already spoken to representatives of Denver7's parent company, E.W. Scripps Co., and to the company looking to buy the property and redevelop it.
The two declined to identify the potential buyer, but said the company is interested in building apartments and does not appear to have any existing Denver projects.
Henry and Cameron said they believe the large parking lot makes it easy for a buyer to build a large project while keeping the existing structure — or at least the octagonal tower.
"We tried to persuade them all that there's so much vacant land on that block that they could find a way to adaptively reuse that building," Henry said. "And of course, they said, no, no, no."
Cameron noted the site is zoned for up to 12 stories.
"They have a lot of density to work with," he said.
Now that a notice of intent has been submitted, the city will appoint a mediator to facilitate conversations between the applicants and Denver7/the potential buyer. The applicants have until late February to decide whether to formally submit a landmark application, which would ultimately need to be approved by the Denver City Council.
"When it was constructed, Channel 7 clearly wanted to make a building that would be prominent and highlight the TV station," Cameron said. "I would argue they succeeded."
"It's a very key intersection in the city," Henry said. "So many people pass by it every day. It really is a beautiful building."
Littleton, Denver7's general manager, declined to comment on Monday.
A move by Denver7 would represent the first major real estate shake-up in two decades among Denver's primary TV stations, which are all clustered within a mile of each other south of downtown. The last major change was in 2000, when KDVR/Fox31's current building at 100 Speer Blvd. was completed.
Denver has seen several owner-opposed landmark applications in recent years. Those for the Tom's Diner building along Colfax Avenue and the former Olinger Moore Howard Chapel in Berkeley resulted in an alternative buyer being found who would preserve the building. But the most recent battle, over the Carmen Court condo complex off Speer Boulevard, found no such compromise.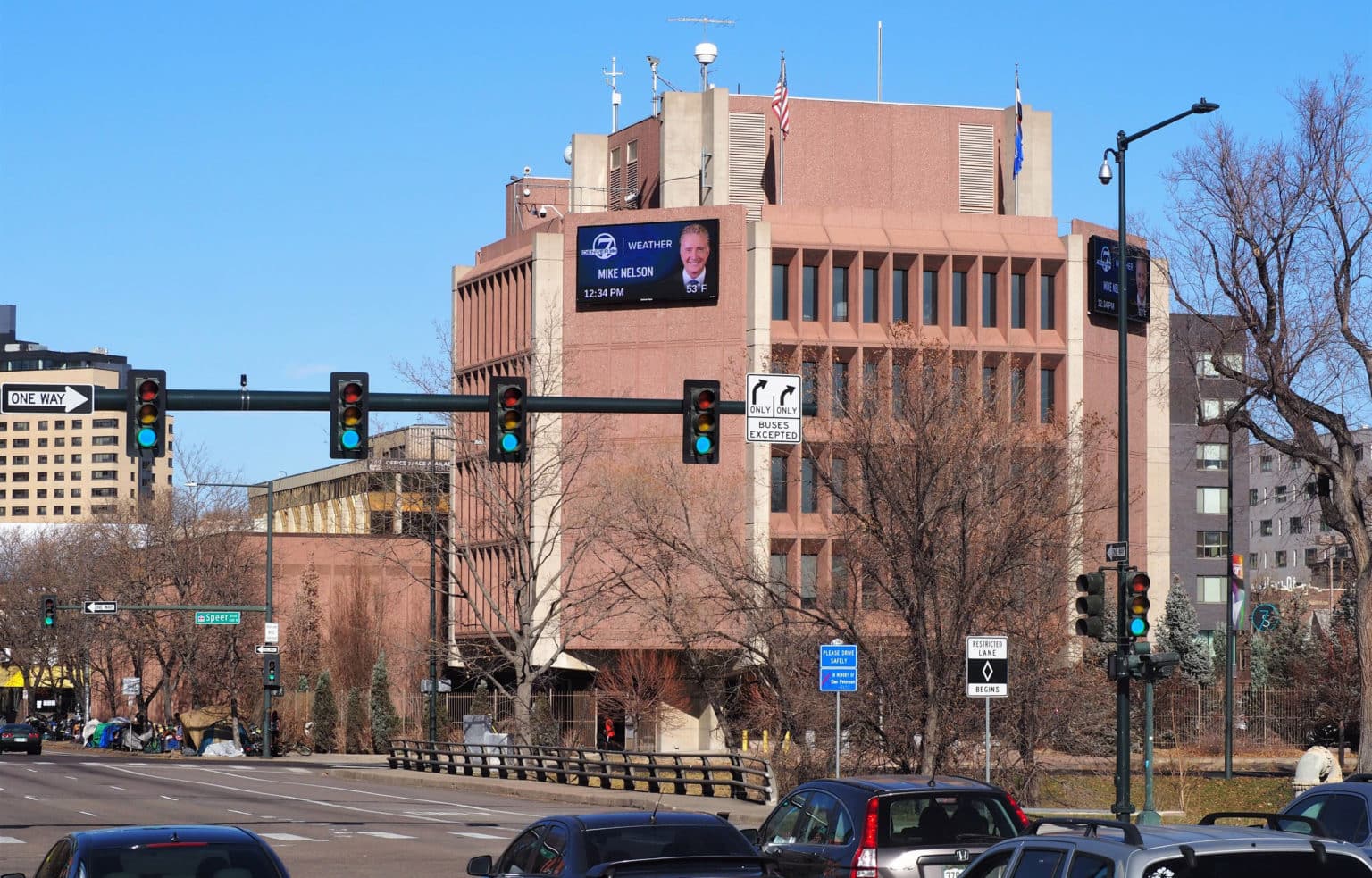 100975